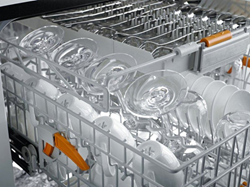 Instead of having all of the wear and tear on one set, it spreads it out so they last longer
Vernon, BC (PRWEB) September 22, 2016
The Okanagan housing market is bustling once again, and among all of the fervor is a new trend in Kelowna appliances that has left some homeowners seeing double.
A recent report by Canada Mortgage and Housing Corporation (CMHC) indicates that housing starts in the city are expected to remain strong for the remainder of 2016, and well into 2017. Taylor Pardy, Senior Market Analyst for CMHC, states the boom is fueled by a combination of "migration-driven population growth, strong resale market activity, a lower exchange rate environment, and low mortgage interest rates."
As a result of the swell in new construction, Brad Kirkham, owner or Genier's Appliances in Vernon, has noticed a corresponding increase in sales. As someone who deals in the high-end appliances Kelowna residents covet, he is also one of the first people to recognize consumer trends as they happen. One tendency he has noticed is for an increasing number of homebuilders to install duplicate appliances.
The average size of new homes is on the rise, especially for custom-built residences. The extra space means there is an opportunity for owners to choose larger kitchen appliances, and to increase the overall number of Kelowna appliances in the house.
In particular, Kirkham says doubling up on dishwasher appliances and laundry sets has become quite common. And while that might seem like an extravagance to some, he explains that there's a certain practicality to this approach.
"Instead of having all of the wear and tear on one set, it spreads it out so they last longer," he says.
"If you have a set of whites (clothing) and a set of darks you can do them at the same time. It gets it out of the way faster."
Kirkham adds that many homeowners are choosing to install a top-end European laundry set—such as Miele, Asko or AEG—in the master bedroom, and more commonly found brands of Canadian appliances in the utility room.
"It makes sense because a large percentage of your clothes are in the bedroom," he says. "You can easily do your washing right there in the master closet.
"The European brands are a little smaller, and they'll wash the clothes better. You could use the second set for things like bedding and the kids clothes."
For dishwashers, Kirkham says certain brands, like Miele, are better suited to handle wine glasses, while others can be used for pots and pans. The result is a versatile cleaning tandem.
"They (Miele dishwashers) have a better rack for long stemware, and they use a DC motor, which cuts down on the water pressure to protect glassware. High end brands like Riedel actually recommend Miele for washing their quality stemware. And some dishwashers have more fold-downs on the bottom rack so you're not fighting the tines putting pots and pans in."
Kirkham adds that it's not uncommon to find two, three or even four dishwashers in modern homes. For example, he's had orders where clients request two for the kitchen, a third for a wet bar and a fourth for a suite or an outdoor kitchen.
About Genier's Appliances
Genier's has been helping Okanagan homeowners take care of their families with the finest home and kitchen appliances for more than 50 years. Genier's expansive live Vernon showroom houses close to 60 of the world's best brands and more selection than any other store in the Interior, including offering appliances to Kelowna and Kamloops.
For more information, please contact:
Brad Kirkham
Owner, Genier's Appliances
info[at]geniers[dot]com
1-250-545-0664
http://www.geniers.com