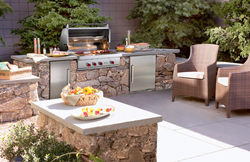 People want to be outdoors by the pool or the lake. Outdoor kitchens make summer entertaining so convenient.
Vernon, British Columbia (PRWEB) July 17, 2014
When an athlete who has a summer home south of Kelowna recently drove all the way to Genier's Appliances in Vernon to outfit his outdoor kitchen, he asked for all the bells and whistles—from a cast brass grill and a pizza oven to a built-in icemaker and a drawer for spices—to the tune of nearly $20,000.
But the trend toward turning the patio into an outdoor living space with a kitchen fit for a professional chef isn't just for millionaires. In the Okanagan, it's becoming a way of life.
"People want to be outdoors by the pool or the lake," says Brad Kirkham, owner of Genier's Appliances. "Outdoor kitchens make summer entertaining so convenient."
One of the most important appliances for Kelowna's barbecue season, of course, is the grill. Kirkham says high-end grills by brands such as Lynx, Wolf, and DCS by Fisher & Paykel ensure your meat gets cooked at just the right temperature and with all the flavour it deserves.
When customers are inquiring about high quality barbecues, Kirkham recommends looking for stainless steel since porcelain coating can chip, rust and flake into meat. Under the hood, he says it's worth investing in a barbecue that heats food with ceramic rods or pucks.
"Metal flares, but ceramic smokes, and that smoke means flavour," says Kirkham, adding ceramic also offers thorough, flavourful cooking when you're using a rotisserie attachment on your barbecue. Infrared grills and burners, hailed the 'microwave of barbecuing,' also promise the perfect sear even faster.
Families often have their grills built into their Kelowna outdoor kitchen space, with countertops on either side, or they're on a cart next to other must-have appliances. Some of the most popular accessories include drawers for utensils or spices, space for cutting boards, sinks, icemakers, under-counter beverage fridges, and side burners for boiling corn. Outdoor pizza ovens, another growing trend, requires special installation, but can add a fun, purposeful and lasting touch to the ultimate outdoor kitchen.
"People want to make the most of summer out here, and an outdoor kitchen means you get to spend more of your time outside," says Kirkham.
About Genier's Appliances
Genier's has been helping Okanagan homeowners take care of their families with the finest home and kitchen appliances for more than 50 years. Genier's expansive live Vernon showroom houses close to 60 of the world's best brands and more selection than any other store in the Interior, including offering appliances to Kelowna and Kamloops.
For more information, please contact:
Brad Kirkham
Owner, Genier's Appliances
1-250-545-0664
http://www.geniers.com