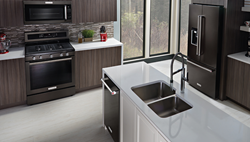 It makes a bold statement, and people were ready for something new.
VERNON, BC (PRWEB) April 05, 2017
It's bold. It's contemporary. It's everything homeowners love about stainless steel appliances. And it's black. Just weeks into releasing KitchenAid's all-new line of black stainless kitchen appliances, and a Vernon appliances store is seeing strong demand for this first-ever, eye-catching finish.
"This is the most dramatic new colour to come out in a long time," says Michael Bowman, sales associate of Genier's Appliances. "We're selling more and more all the time."
KitchenAid's black stainless line uses a soft, brushed metal look to give a darker hue and a bolder aesthetic to an entire suite of kitchen appliances, including refrigerators, wall ovens, dishwashers, hoods, ranges and microwaves.
"You can get black stainless across their whole line and in a number of different models so you can achieve a look that's strong yet warm in all the kitchen appliances you want to update."
Offset by rich chrome details and satin-textured handles, Bowman says while the new black stainless is modern and eye-catching and works as a suite, individual black stainless appliances can complement its predecessor well.
"Stainless steel has a strong look too, and some homeowners will have fun mixing and matching with black stainless, while others—maybe people doing a kitchen reno or building new—will want to go for the whole suite. Either way, you're making a statement, and the nice thing is, because it's a bit softer, black stainless suits a real range of styles and cabinets, from modern to traditional."
Following the launch of stainless steel, the interest in other appliance finishes has waned to the point that manufacturers have dropped white and black. And while some brands have released matte black, KitchenAid is the one of the first to release black stainless.
"It makes a bold statement, and people were ready for something new, but it's also really functional because KitchenAid used its PrintShield™ finish so you don't have to worry about fingerprints or smudges. You just wipe with a cloth," says Bowman. "It's going to look amazing for a long, long time. Pictures just don't do it justice."
About Genier's Appliances
Genier's has been helping Okanagan homeowners take care of their families with the finest home and kitchen appliances for more than 50 years. Genier's expansive live Vernon showroom houses close to 60 of the world's best brands and more selection than any other store in the Interior, including Kamloops and Kelowna appliances stores.
For more information, please contact:
Michael Bowman
Sales Associate, Genier's Home Appliances
1-250-545-0664
info[at]geniers[dot]com
http://www.geniers.com