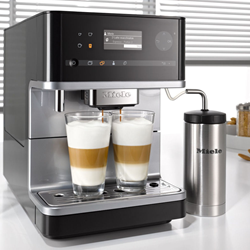 [Induction cooktops] are so much more energy efficient than other methods of cooking, and that's become important to people.
Vernon, BC (PRWEB) October 28, 2014
Some of the latest laundry and kitchen appliance trends suggest people want features that will make their household 'green', clean, and easy to use. Kelowna appliances expert Brad Kirkham says thanks to time and innovation, homeowners can tick all those boxes and one more: savings.
1. Induction Cooktops
They're easier to clean, they cook food faster and they're ultra safe for families with small children, and now they're actually affordable. Induction cooking, which uses electricity and magnetism to make the pan the source of heat, has been around for decades, but it's only become mainstream in the last 10 years.
"Now we're starting to see mid-range models that are a lot more affordable," says Brad Kirkham, owner of Genier's Appliances in Vernon, an appliance store with live kitchens and the best selection in the Interior. "They're so much more energy efficient than other methods of cooking, and that's become important to people."
2. Induction Slide-In Ranges
When induction first came out, it was relegated to cooktops. Eventually it joined the ranks of ranges, and now you can find slide-in induction ranges with relative ease at some Vernon and Kelowna appliance stores.
Some of the manufacturers who have recently released slide-in induction ranges include Bosch, Jenn-Air, and Fisher & Paykel. Slide-in ranges fit snug between cupboards and counters for a sought-after built-in look.
3. Side-Swing Ovens
Ovens that open just like all the other doors in a home—by swinging to the side—have also become a highly popular new feature.
"It means the door isn't in your way, and that's great for people in wheelchairs or anyone who doesn't want to be reaching over to pull out trays," says Kirkham, adding Gaggenau offers home chefs a high-end side-swing oven while Bosch offers a more reasonably priced model.
4. Touch Screens
More and more homeowners are going to their Kelowna appliance stores looking for a coffeemaker or an oven, and coming home with a new addition to the family—a computer in the kitchen.
Miele, for example, just revamped its coffeemaker to include a touch screen that allows you to choose a macchiato perfectly layered with milk, coffee and froth.
A handful of appliance brands, including Wolf, Miele and Jenn-Air, offer ovens with touch screens and in-depth automated settings so people can select not just a roast but how well done they want their roast to be and see an image of medium-well beef just to make sure that's what the chef wants. Some ovens will even ask what else the person is cooking and then tell them when to put in and take out each dish.
"The touch screen just makes your appliances more intuitive and easier to use," says Kirkham. "You don't have to get out your manual."
5. Fan Fresh Front Loaders
Front-loading washers offer homeowners the height of efficiency by selecting just the right amount of water, but there's been one drawback: a musty smell. Now a handful of front load washer makers have included a built-in fan that dries out the drum of a washer after a load of clothes have been taken out.
The fan setting only has to be selected once and then homeowners never have to worry about must or mould.
When it comes to Vernon, Kamloops, and Kelowna appliances, Okanagan homeowners head to Genier's Appliances because they carry more than 50 brands of the world's best appliances and you can see how many of them perform in the store's 15 live demonstration kitchens.
Brad Kirkham
Owner, Genier's Home Appliances
1-250-545-0664
info[at]geniers[dot]com
http://www.geniers.com