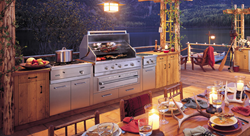 For those looking to whip up a few burgers and hot dogs for the kids, the gas grill will do it quickly and easily.
Vernon, BC (PRWEB) April 01, 2016
Gas and charcoal with one grill. Ice that's crystal clear and free of impurities. Outdoor kitchens that are warm even though it's only 10 degrees outside. These are some of the trends homeowners can expect from the latest Kelowna appliances as outdoor cooking season heats up this spring.
As the snow gives way to green lawns and warm temperatures, grilling enthusiasts are dusting off their tongs and basting brushes to begin preparing their favourite dishes once again. Now, they have more options than ever to create mouthwatering meals with minimal fuss.
Take, for instance, the Coyote 50-inch Hybrid Grill. With a gas grill on one half and a charcoal grill on the other, home cooks can choose which method suits their mood, timetable and the meal in question.
For those looking to whip up a few burgers and hot dogs for the kids, the gas grill will do it quickly and easily. Or, to coax every ounce of flavour out of a prime cut of rib-eye steak, then the smoky goodness of charcoal is the way to go.
"Some people like to cook with charcoal, but sometimes there can be a lot of prep work to cook that way," says Brad Kirkham, owner of Genier's Appliances. "You don't always have the time. This (Coyote grill) gives you the best of both worlds."
In total, the Coyote offers 1,200 cubic inches of grilling real estate, enough to cook for the entire neighbourhood. The gas side—which is available in natural gas or liquid propane—boasts up 40,000 BTU of cooking power. The charcoal portion, meanwhile, features a handy crank assembly to control the height (and therefore the heat) of the coals.
And what's an outdoor kitchen party without a round of freshly blended margaritas? While many bartenders prefer to use fresh ingredients to mix drinks, Kirkham says they often overlook one of the most important components: ice.
"Most ice cubes made at home are usually made with tap water, and all of the impurities that go with it," he says. "It can make your drink taste stale and off, and the cubes crack, pop, and splatter."
People shopping for new Kelowna appliances are bound to notice brands like Marvel and U-Line that produce clear icemakers. Kirkham says restaurant-quality appliances use a cold-plate process that removes chlorine and other impurities. He adds that a dedicated ice machine eliminates the chance of the ice absorbing food odours that could taint the flavour of a beverage.
"The ice is always fresh and it's always clear," says Kirkham. "That's why when you get a drink in a restaurant, it just tastes better. It's not necessarily the Coca-cola they're using is better, it's the ice you put into it."
Among the other sought-after Kelowna appliances for outdoor kitchens are heaters. They might not necessarily turn a home griller into a barbecue master, but they certainly make outdoor cooking and entertaining more pleasurable when it's chilly.
"It just comes down to comfort and elongating the summer months to enjoy the outdoor kitchen experience," says Kirkham, noting DCS makes a wall-mounted patio heater capable of providing comfortable heat up to 15 feet away.
About Genier's Appliances
Genier's has been helping Okanagan homeowners take care of their families with the finest home and kitchen appliances for more than 50 years. Genier's expansive live Vernon showroom houses close to 60 of the world's best brands and more selection than any other store in the Interior, including offering appliances to Kelowna and Kamloops.
For more information, please contact:
Genier's Appliances
info[at]geniers[dot]com
1-250-545-0664 or 1-888-545-0664
http://www.geniers.com