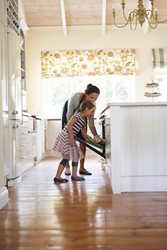 Essentially you could say you want dinner to be ready at 5:30 pm, and put your casserole in the oven. It turns on when it needs to and cooks the casserole so it's ready for exactly 5:30 pm
Vernon, BC (PRWEB) June 30, 2016
Is it possible to cook a healthy, full-course family meal in minutes? The latest lineup of Canadian appliances says yes. As manufacturers cater to lifestyle trends, the Vernon appliance experts at Genier's Appliances have witnessed an increasing number of products and features catering to the busy modern family.
A recent report on large Canadian appliances for the kitchen by Euromonitor International backs up what Genier's Appliances have experienced, noting that "lifestyle trends continue to have an impact on innovation in large cooking appliances."
One of the kitchen appliances that's growing in popularity for its versatility and its ability to whip up traditional meals in half the time is the speed oven. Speed ovens use low levels of microwaves along with thermal heat to shave time from baking cookies or roasting chickens.
"It's really a hybrid, so you can use it as a microwave, an oven or both as a speed oven," says Brad Kirkham, owner of the Vernon appliance store Genier's. "A lot of families like that flexibility, and it can be your second oven."
As a speed oven, this appliance bakes cookies in less than five minutes or cooks a lasagna from frozen in 20 minutes. It requires little to no preheating, and it's energy efficient.
Makers of Canadian appliances have also found a way to let the traditional oven do its job in less time with the use of convection.
"It definitely does speed things up," says Kirkham, of the fan now found at the rear of ovens which circulates air around the oven cavity and cooks in less time as well as sears and seals moisture in meats.
More and more busy families are looking for auto features that will help take the guesswork out of cooking. Some induction ranges (which use electricity and magnetism to make the pan the source of heat) feature timers that will bring a pot to a boil and then drop the temperature.
Many home chefs have also taken to settings that ask the type of meat and how it should be cooked, and then take the cooking from there. Pre-set features are also becoming popular.
"Essentially you could say you want dinner to be ready at 5:30 pm, and put your casserole in the oven. It turns on when it needs to and cooks the casserole so it's ready for exactly 5:30 pm," says Kirkham.
"As people find themselves with less time to prepare meals, the introduction of convenience features in appliances such as convection cooking, independent dual-oven ranges and features such as preset start and stop times are becoming more prevalent."
About Genier's Appliances
Genier's has been helping Okanagan homeowners take care of their families with the finest home and kitchen appliances for more than 50 years. Genier's expansive live Vernon showroom houses close to 60 of the world's best brands and more selection than any other store in the Interior, including Kamloops and Kelowna appliances stores.
For more information, please contact:
Brad Kirkham
Owner, Genier's Home Appliances
1-250-545-0664
info(at)geniers(dot)com
http://www.geniers.com