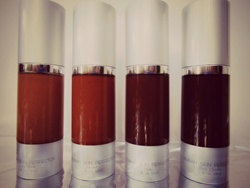 Women with troubling hyper-pigmentation deserve a go-to product made exclusively for them.
SAVANNAH, Georgia (PRWEB) December 21, 2014
Genius Beauty, an eco-friendly cosmetics brand, introduces Nubian Skin Perfector, body concealer (http://www.nubianskinperfector.com) An instant-fix for skin imperfections, made specially for hyper-pigmented skin. The new concealer features rich-colored shades for full blemish covering effects, plus a quick drying formula for a long-wear finish.
"We are thrilled to present this practical solution to a well-known beauty dilemma. Women with troubling hyper-pigmentation deserve a go-to product made exclusively for them," says Angela L'Étranger Carter, Genius Beauty's founder. "Numerous women-of-color suffer from severe skin discoloration on places like their neck, elbows or knees. Spider veins, scars and bruises are also beauty concerns that could use this polishing treatment." She explains, "Nubian Skin Perfector was created to give women the confidence in feeling instantly flawless. They can say goodbye to those distressing skin imperfections with our new self drying body concealer."
The company was established by the cosmetic entrepreneur after searching for a health-conscious and effective solution to skin discoloration. An alternative to hazardous skin lighteners and a replacement for regular non drying makeup. Determined to add the problem solving commodity to the skin-care market, L'Étranger Carter formulated, manufactured and bottled Nubian Skin Perfector at the Genius Beauty makeup factory in Savannah. Keeping the nature friendly and polished women of today in mind. The revolutionary cosmetic uses 100% naturally derived components including earth pigments for richly tinted flesh tones, pure Aloe Vera for skin conditioning and hints of Juniper Berry essential oil for a natural fragrance.
The body concealer leaves a satin-like, second-skin finish and completely diminishes dark spots for an even skin-tone appearance. Most importantly, Nubian Skin Perfector blends onto the skin, then dries where applied. This prevents smudging onto clothes, furniture or other cherished incidentals.
Genius Beauty recently announced the grand opening of it's online store, offering a $10 discount on all shades (for a limited time only). The store spotlights Nubian Skin Perfector in 1 fluid ounce/30ml bottles. Designed for the convenience of women on-the-go. The company also offers worldwide shipping and provides 3 day delivery to orders placed in the USA.
Nubian Skin Perfector is the first self-drying makeup to address body hyper-pigmentation, specifically for women-of-color. "The cosmetic industry needed a token product that caters to the unique color correcting needs of discolored skin. Especially flux areas of the body like the elbows and knees." Says L'Étranger Carter. "I used this void in the market to supply women-of-color with a staple beauty treatment that gives an instantly flawless finish and stays in place, for all day wear." She adds, "After all, when women feel beautiful they look beautiful, too."
Genius Beauty's debut product line includes shades like Crème brûlée and Hazelnut, matching the lighter to medium flesh tones. Warm brown to deeper dark complexions have Mocha and Dark Chocolate shades to perfectly match their skin. More shades scheduled for debut soon. Available only at http://www.nubianskinperfector.com