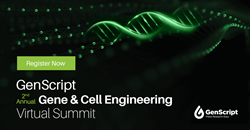 PISCATAWAY, N.J. (PRWEB) July 21, 2022
Genscript to host their 2nd "Gene and Cell Engineering Summit" on July 28th 2022, on the Labroots platform.
At Genscript's Virtual Summit, expect to see leaders in the life sciences from academia, pharma, and biotech, leveraging the strengths of synthetic biology technologies to develop life-changing therapies. Join GenScript at this one-day event featuring keynote presentations and two tracks dedicated to invited speakers working on Cell Therapy or Gene Therapy research.
Topics include:

How synthetic biology continues to revolutionize life science research
Advancing gene and cell therapies
Efficient development of invaluable biotherapeutics for various human diseases
To register for the event, and view the agenda, click here.
About Genscript
GenScript, a leading contract research organization (CRO), provides a one-stop solution to investigators globally working with genes, peptides, proteins, CRISPR tools, and antibodies. Since its foundation 20 years ago, GenScript has grown exponentially through strategic capacity expansions, licensing agreements for accessing cutting-edge technologies, and partnerships with scientists conducting basic life science investigation, translational biomedical research, and early-stage pharmaceutical development. GenScript is recognized as having built a best-in-class capacity and capability for biological research services, encompassing gene synthesis, peptide synthesis, custom antibody, and protein engineering. Deep commitment, expertise, and innovative approaches to synthesizing high-quality genes have enabled GenScript to become a leader in the Gene and Cell Engineering space. Resolute in its goal to Make Research Easy, today, GenScript provides complete solutions to investigators developing cell therapies through viral or fully non-viral CRISPR strategies. For more information, please visit http://www.genscript.com.
About Labroots
Labroots is the leading scientific social networking website and primary source for scientific trending news and premier educational virtual events and webinars and more. Contributing to the advancement of science through content sharing capabilities, Labroots is a powerful advocate in amplifying global networks and communities. Founded in 2008, Labroots emphasizes digital innovation in scientific collaboration and learning. Offering more than articles and webcasts that go beyond the mundane and explore the latest discoveries in the world of science, Labroots users can stay atop their field by gaining continuing education credits from a wide range of topics through their participation in the webinars and virtual events.