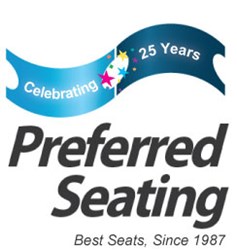 "Fans would line up for up to 5 days for George Strait tickets in the late 1980's early 90's" says Greg Cullen of Preferred Seating Tickets. "And by the time the last fan bought their tickets there were 3-4 shows sold out."
Sacramento, CA (PRWEB) September 27, 2013
George Strait is not going to be riding off into the sunset any time soon but the "King of Country" is on his final tour that will bring him back to the Staples Center and perhaps his final concert in Los Angeles. George Strait tickets for The Cowboy Rides Away tour go on sale today for the country artist with 60 number one hits going back to the early 80's. Fans can find tickets at Ticketmaster.com and also on the secondary ticket market from PreferredSeat.com.
This is the second leg of what George Strait is calling his last road tour but he's leaving open the option to perform again, most likely at a benefit concert. There was a time that George Strait could sell out multiple concerts in every city but right now he's limiting each stop to just one show. "Fans would line up for up to 5 days for George Strait tickets in the late 1980's early 90's" says Greg Cullen of Preferred Seating Tickets. "And by the time the last fan bought their tickets there were 3-4 shows sold out."
George Strait started performing in the mid-seventies but hit his stride with his first hit "Unwound, in 1981. Over the next three decades he would amass 60 number one hits, a Grammy Award for his 2008 album "Troubadour", and more CMA and ACM awards that any other artist. George Strait's most recent album "Love is Everything" includes his most recent number one hit, "Give It All We Got Tonight".
As with every tour Strait will be joined by his Ace in the Hole band mates. The concerts will once again feature the main stage in the center of the floor with reserved seating all around. For many fans they'll want to be the nearest to the stage on the floor. But some of the best seats will be in the risers giving the concert goer a good view as George makes his way around the stage to perform and acknowledge his fans.
Ticket buyers can expect the 2014 George Strait concerts to sell out just as fast as they did for the first leg of the tour earlier this year. Fans are encouraged to check with Ticketmaster for the initial on sale at 10am Friday and PreferredSeat.com will also have a wide selection of George Strait tickets on sale for every concert on the tour. The final George Strait concerts will be one of the most in demand concerts of the year and this is one artist that won't be staging a comeback tour.
Preferred Seating Tickets have been a leading reseller of concerts, sports and theater tickets since 1987. Fans can buy premium tickets online at PreferredSeat.com or by phone without extra service charges and a 100% guarantee.