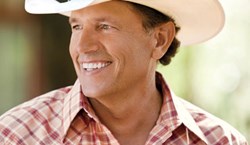 Arlington, VA (PRWEB) December 06, 2013
George Strait will begin the final leg of The Cowboy Rides Away Tour January 9, 2014 with Jason Aldean and wrap up on June 7, 2014 at AT&T Stadium. Tickets for The Cowboy Rides Away Tour's final stop in Dallas went on sale Friday morning and ticketing websites like SuperStarTickets.com have seen an overwhelming amount of demand for tickets. Aside from Dallas being the final stop of George Strait's tour, George Strait has also called in some of the biggest names in the industry to appear on stage with him making tickets to this event one of the best sellers going into the holidays.
For fans interested in George Strait tickets for his final show at AT&T Stadium will be happy to hear that Jason Aldean, Kenny Chesney, Eric Church, Ronnie Dunn, Vince Gill, Faith Hill, Alan Jackson, Miranda Lambert, Martina McBride, and Lee Ann Womack are all scheduled to perform. For fans who can't attend the mega finale on June 7th SuperStarTickets.com still has tickets available for the following tour dates.
The Cowboy Rides Away Tour - George Strait Tour Dates:
January 9, 2014 CenturyLink│Bossier City, La.
January 10, 2014 Frank Erwin Center│Austin, Texas
January 17, 2014 CenturyLink Center│Omaha, Neb.
January 18, 2014 Sprint Center│Kansas City, Mo.
January 30, 2014 SAP Center│San Jose, Calif.
January 31, 2014 Valley View Casino Center│San Diego, Calif.
February 1, 2014 MGM Grand Arena│Las Vegas, Nev.
February 7, 2014 US Airways Center│Phoenix, Ariz.
February 8, 2014 Staples Center│Los Angeles, Calif.
February 14, 2014 The Palace of Auburn Hills │Auburn Hills, Mich.
February 15, 2014 Nationwide Arena│Columbus, Ohio
February 28, 2014 Wells Fargo Arena│Philadelphia, Pa.
March 1, 2014 Prudential Center│Newark, N.J.
March 7, 2014 KFC Yum! Arena│Louisville, Ky.
March 8, 2014 Allstate Arena│Chicago, Ill.
March 21, 2014 Bridgestone Arena│Nashville, Tenn.
March 22, 2014 Philips Arena│Atlanta, Ga.
April 4, 2014 Intrust Bank Arena│ Wichita, Kan.
April 5, 2014 Pepsi Center│Denver, Colo.
April 11, 2014 The Moda Center│Portland, Ore.
April 12, 2014 Tacoma Dome│Tacoma, Wash.
April 18, 2014 Wells Fargo Arena│Des Moines, Iowa
April 19, 2014 BOK Arena│Tulsa, Okla.
May 23, 2014 LSU Tiger Stadium Bayou Country Superfest │Baton Rouge, La.
May 31, 2014 Gillette Stadium │ Foxborough, Mass.
June 7, 2014 AT&T Stadium │Dallas, Texas
For a limited time SuperStarTickets.com will also be offering George Strait fans an exclusive discount on all George Strait ticket purchases. Simply enter the promotional code RIDEAWAYTOUR at the checkout page to receive the promotional discount, this discount is only valid on George Strait ticket purchases through January 1, 2014.