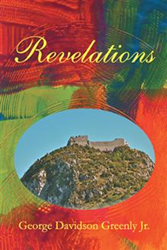 "It incorporates love, religion, murder and deceit, while mixing historical facts and fiction."
SAN ANTONIO (PRWEB) February 20, 2015
Author George Davidson Greenly Jr.'s new novel explores crime, murder and the ancient papal secrets that surround a lesser known Christian crusade – known as the Albigensian Crusade – launched by Pope Innocent III to extirpate the Cathari Christians of France.
'"Revelations" (published by Abbott Press) solves a mystery from the mists of time with startling revelations regarding the birth of Christianity," Greenly says. "It incorporates love, religion, murder and deceit, while mixing historical facts and fiction."
U.S. Military Academy cadet and later, U.S. Army Lieutenant, Mathew Dwayne Jameson or "DJ," is a practicing Catholic who is appalled by what he discovers regarding the Albigensian Crusade as he studies the military aspects of the force-on-force campaigns of the Crusades. After graduation from West Point, DJ enters Oxford University on a Fulbright scholarship where he continues his research on the Albigensian Crusade, the Christian Cathari and Pope Innocent III. There, he falls in love and deals with a suspicious death.
Though tragedy ends DJ's future with his love interest, it also enhances his resolve to press forward with his quest to discover what "treasure" the Christian Cathari held which led Pope Innocent III to try to extirpate the Cathars in France. DJ's quest leads him to England, France and Rome where, as a military liaison to the U.S. embassy to the Holy See, he acquires access to the secret archives of the Vatican. There, he seeks answers to his many questions regarding the Cathari treasure – long lost and untranslated documents.
DJ's search for information lost for centuries and the shock when the documents are finally found and translated presents readers with a believable premise of what the true treasure of the Cathari may have been, and what may have happened to it.
"Revelations"
By George Davidson Greenly Jr.
Hardcover | 6 x 9 in | 126 pages | ISBN 9781458212382
Softcover | 6 x 9 in | 126 pages | ISBN 9781458211873
E-Book | 126 pages | ISBN 9781458211866
Available at Amazon and Barnes & Noble
About the Author
George Davidson Greenly Jr. is a retired U.S. Air Force officer and a member of the San Antonio Writers Guild. A graduate of the Long Ridge Writers Group courses "Breaking into Print" and "Shape, Write, and Sell Your Novel," he lives with his wife and two cats in San Antonio, Texas.
Abbott Press, a division of Writer's Digest – the oldest and most respected publisher devoted to the education and advancement of writers – is an indie-publishing imprint dedicated to helping writers bring their literary vision to print. Author Solutions, LLC, a leader in indie book publishing, will fulfill publishing, sales, and marketing services for Abbott Press. For more information, or to begin publishing a book today, log on to abbottpress.com or call 866-697-5310.
###