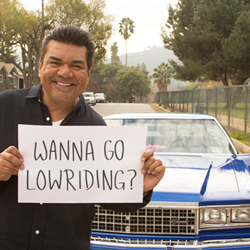 "WANNA GO LOWRIDING?"
LOS ANGELES, CALIFORNIA (PRWEB) January 15, 2015
George Lopez, star of the new Pantelion (Lionsgate/Televisa) film, Spare Parts, a true story about 4 high school students who form a robotics club on a shoe string budget, invites people from all over the world to join efforts to get public education properly funded with the launch of a new campaign entitled, "LOWRIDE WITH GEORGE LOPEZ". Fans can contribute now at Omaze.com/GeorgeLopez for a once in a lifetime cruise with you and a friend along the Hollywood Sunset Strip in a tricked out lowrider with George Lopez. We'll take care of flights, 4-star hotel and dinner for 2 at one of the best restaurants in Beverly Hills. For each $10 contribution made through the Omaze fundraising platform, eligible participants will be automatically entered for a chance to win. Funds raised from the campaign will go to the LA Fund for Public Education on behalf of the Los Angeles Unified School District, where George went to school, the 2nd largest school district in the country, and TrueSpark, a non-profit charitable organization that inspires children through character education that works with Beyond the Bell, a division of the LAUSD.
LAUSD has faced severe budget cuts in recent years that are expected to continue. Nationwide, our schools are losing billions of dollars in funding. "LAUSD believes that all students deserve an education that is relevant, engaging and prepares them for the high tech careers of the future," says Alvaro Cortes, Executive Director of Beyond the Bell which runs award-winning robotics teams across the district. "We are so privileged to have George Lopez, one of our most successful performing artist alums in the entertainment capital of the world support our mission to provide full-time arts teachers in every artistic form at every school, " says Rory Pullens, newly appointed Executive Director of Arts Education. The 6-week program, powered by Opportunity Builders, LLC, which starts on January 14, 2015 "shares a message of hope for future performing artists, filmmakers, engineers, scientists, and other professionals who will make our lives easier, more enjoyable and solve problems we don't even know exist yet", says Seanne Murray, Esq., CEO of Opportunity Builders.
About the LA Fund for Public Education
An independent 501(c)(3) charitable organization, The Los Angeles Fund for Public Education builds innovative partnerships to create solutions that will improve the educational, health and
wellness outcomes for students in LAUSD. Through collaboration and creativity, they inspire action and achieve impact.
About the Los Angeles School District
Second largest in the nation, the Los Angeles Unified School District (LAUSD) enrolls more than 640,000 students in kindergarten through 12th grade, at over 900 schools, and 187 public charter schools. All youth achieving, the mission of LAUSD, is reflected in continued double-digit growth on the state Academic Performance Index (API), the upward trend in the graduation rate, progress in the pass rate on the California High School Exit Exam (CAHSEE) and other academic indicators. LA schools boast more winners of the United States Academic Decathlon championships than any other District in this country.
About Beyond the Bell
Beyond the Bell Branch (BTB) is part of the Los Angeles Unified School District (LAUSD), the second largest school district in the nation. BTB offers award winning out-of-school time (before and after school and Saturdays) programs at the elementary, middle, and high school level to more than 100,000 students every day. BTB's mission is to ensure that all children and youth in LAUSD have access to free, high quality, safe, and supervised academic, enrichment, and recreation programs that inspire learning and achievement beyond the regular school day.
About The Arts Education Branch
The Arts Education Branch (AEB) is part of the Los Angeles Unified School District (LAUSD). The AEB partners with Los Angeles and national arts, entertainment and philanthropic communities to collaboratively support the growth of a robust arts culture in the city and provide its nearly 650,000 K-12 students in over 900 schools, a comprehensive and challenging visual and performing arts curriculum. The AEB sponsors school, family, and community arts related programs and staff professional development for its cutting-edge arts education design and implementation.
About Opportunity Builders, LLC
Opportunity Builders, LLC, uses the entertainment expertise, contacts and business acumen of its founders to help those in need. Opportunity Builders works closely with schools, performing arts institutions, charitable organizations, visionary brands, entertainment conglomerates and superstars to creatively raise money for critical social causes. Kerry Gordy of Motown lineage and CEO, Seanne Murray, Esq., following in the footsteps of their family legacies in entertainment, education and philanthropy are committed to helping current and future generations.
About Pantelion
Pantelion Films is the first major Latino Hollywood studio and the new face of Hispanic entertainment. It is a synergistic partnership between Lionsgate Entertainment and Grupo Televisa. Pantelion provides Hispanic moviegoers with a steady source of exciting and original films, which include top-rated Latino actors, directors and writers. In 2013, Pantelion Films broke records with Instructions Not Included, the top grossing Spanish Language film domestically of all time, and the fourth highest grossing Foreign Language film domestically of all time. From broad comedies and dramas to family movies and romantic comedies, Pantelion produces and acquires movies that speak directly to acculturated and Spanish-dominant Hispanics alike. Additionally, the company's partnership with the largest cinema chains in America ensures that each film is accessible across the country to enjoy.
About OMAZE
Founded by writer/filmmakers and friends from college, Matt Pohlson and Ryan Cummins, Omaze is an online charity platform that gives anyone the chance to win once-in-a-lifetime experiences that also support remarkable causes. Omaze has worked with top actors, musicians, and athletes around the world including George Clooney, Ben Affleck, Matt Damon, Lady Gaga, Will Smith, George Lucas, Jennifer Lopez, and Phil Jackson, to name a few. For more information, please visit http://www.omaze.com.
About TrueSpark
TrueSpark is a nonprofit, charitable organization whose mission is to expose, immerse, and engage America's youth on issues of character through watching inspiring movies and participating in interactive educational activities.
For more information please contact:
Opportunity Builders - Seanne Murray, Esq. 201-681-9229 info(at)opportunitybuilders(dot)com
OMAZE – Carolyn Zweifel (ID PR) czweifel(at)id-pr(dot)com
LAUSD/BTB - Thomas Waldman, 213-241-6766 thomas.waldman(at)lausd(dot)net
Pantelion/George Lopez, 310-255-3688 jrodriguez(at)pantelionfilms(dot)com