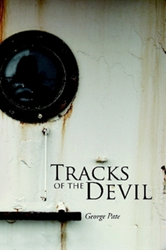 Pate hopes to give readers a page-turning experience that portrays the importance of loyalty among friends.
BROOKSVILLE, Fla. (PRWEB) October 16, 2014
Author George Pate brings his 35 years of experience in the maritime industry to his new science-fiction novel "Tracks of the Devil" (published by Lulu).
After many years of faithful service, Captain Raimo Nieminen is finally retiring. His final voyage will take him from Canada to Riga, Latvia in the Baltic Sea, an easy voyage perfect for the captain's last hurrah. Together with his friend Chief Officer Mika Rastio, Raimo and his cargo ship set sail across the Atlantic Ocean.
Unknown to both Raimo and Mika, one of their crewmen, César Ayala, is a smuggler for a powerful cartel. Under the cartel's orders, César brings illicit cargo on board and plans to deliver it in Riga, but a lot can happen on a ship alone at sea. It is up to Raimo and Mika to find the cargo and stop César before he can make his special delivery.
Laced with action, humor and wit, "Tracks of the Devil" delivers an engaging plotline with driven characters that will stop at nothing to achieve their goals. Pate hopes to give readers a page-turning experience that portrays the importance of loyalty among friends.
An excerpt from "Tracks of the Devil":
"He returned to the block and saw that a large piece had cracked off. Rimkus gazed in wonder at two massive, gray, three-toed feet. He stretched forth a hand just as the last of the closing hatch covers snuffed out the last of the sunlight in the hold."
"Tracks of the Devil"
By George Pate
Softcover | 6 x 9 in | 252 pages | ISBN 9781483414157
E-Book | 252 pages | ISBN 9781483414164
About the Author
George Pate worked for 35 years in the port of Tampa, Florida as a third-generation member of the maritime industry. He has lived his entire life in central Florida, and currently resides in Brooksville with his beloved wife. His works include "Leonard," "Moralis Rodentus" and "Markus: A Year in the Life of a Rural German Shepherd."
Lulu empowers people of all ages to explore and express their interests, passions and expertise through books, photography and art. Since introducing self-publishing in 2002, Lulu has empowered creators in more than 225 countries and territories to produce nearly two million publications. Lulu Jr. allows children to become published authors, encouraging creativity, strengthening literacy and building self-esteem. Picture.com offers professional photography of collegiate and professional sports, memorable and historic events, fine art and home décor. For more information, please visit lulu.com.