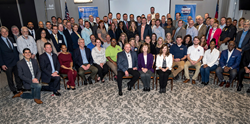 "Our organization is now 325 members strong representing over 60,000 employees with six chapters across the state," said Jason Moss, CEO of the Georgia Manufacturing Alliance.
ATLANTA (PRWEB) February 14, 2019
The Georgia Manufacturing Alliance (GMA) celebrated its 11th Year Anniversary on February 7th at the 1818 Club in Duluth. Over 100 industry leaders from around the state came to show support for GMA and its founder Jason Moss. A special resolution from the Governor's office recognized the accomplishments of Mr. Moss and his organization citing that GMA "provides a unique platform for our state's manufacturing leaders to share best practices and secure and maintain strategic partnerships."
"The Georgia Manufacturing Alliance began in 2008 with a core group of 15 manufacturers and service providers that saw a need to find local resources for their industry", said Mr. Moss "They wanted to buy, sell and trade locally, but did not have the platform or resources to make the connections. Our organization is now 325 members strong representing over 60,000 employees with six chapters across the state."
Mr. Moss shared some of the GMA Highlights from 2018 which included:

Ribbon Cutting at new GMA headquarters
100 new members and 5 new annual sponsors – now reaching over 325 members statewide
17 Joint Industry Association of Georgia (JIAG) partners added
120 plant tours, educational workshops, and networking events throughout the state
BuyFromGA.com website developed to promote consumer-based products
Over 800 attendees at the Georgia Manufacturing Summit with keynotes from Gulfstream President, Mark Burns and Thrush Aircraft Vice President, Eric Rojek
4th Annual People of Manufacturing Awards
2 Editions of the Georgia Manufacturing Directory – Cited as the #1 resource guide for the manufacturing community
National and International Press Coverage - Atlanta Business Chronicle, Business RadioX, Cobb Business Journal, Gwinnett Daily Post, IndustrialSage, Marietta Daily Journal, Savannah News, Supply Chain NOW Radio, and Welding Journal along with many other media sources
Part of the proceeds from GMA's 10th Year Anniversary went to support the Veterans Empowerment Organization (VEO) which provides housing and resources for veterans in transition. VEO is GMA's charity of choice for 2019 and Dan Valentine, VEO Ambassador shared their vision for 2019. VEO's Self-Sufficiency Model which focuses on taking "Invisible Veterans" off the streets of our cities and placing them into a safety net of support that provides immediate and long-term housing, treatment and recovery for addiction, healthy meals, basic necessities, clothing, as well as, medical care, mental health counseling, life-skills training and workforce development support.
ABOUT GMA: The Georgia Manufacturing Alliance (GMA) is a membership-based industry organization founded in 2008 to support Georgia's manufacturing community. GMA provides monthly plant tours, educational sessions, tradeshows, and unique networking opportunities designed to help make profitable business connections for its members. The Georgia Manufacturing Directory, Georgia Manufacturing Summit, Georgia Manufacturing Calendar, and BuyFromGa.com website are additional resources produced by GMA. To learn more about the organization, membership, and upcoming events, please call 770-338-0051 or visit their website https://www.GeorgiaManufacturingAlliance.com.