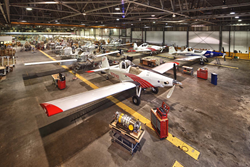 "The aerospace industry benefits greatly from the depth of manufacturing capabilities in Georgia," said Eric Rojek.
ALBANY, Ga. (PRWEB) November 27, 2018
Members of the Georgia Manufacturing Alliance toured Thrush Aircraft in Albany, GA on November 13th. Thrush is one of the world's largest manufacturers of agricultural aircrafts producing 50 planes a year with 70% of these being exported outside of the U.S.
Eric Rojek, Thrush Vice President, led the tour which gave GMA members an in-depth, behind the scenes look at the superior craftsmanship that goes into building each plane. Watch this Georgia Manufacturing News video: https://youtu.be/rDniALmbHDE to learn more about Thrush and their manufacturing process.
"The aerospace industry benefits greatly from the depth of manufacturing capabilities in Georgia," said Eric Rojek. "Capabilities that are not only vital to the success of our nation but that allow us to continue building upon Georgia's rich legacy of success in aviation."
Headquartered in Albany, Georgia, Thrush Aircraft manufactures a full range of aerial application aircraft used in agriculture, forestry, and firefighting roles worldwide. Founded in 2003, Thrush is well-known for building the most durable aircrafts in the aerial application industry, and the best flying – from both pilot and operator perspectives. Today there are more than 2,200 Thrush aircraft operating in some 80 countries.
This versatility has made Thrush a favorite of operators, both large and small. Major operators who rely on Thrush include such familiar names as Dole Fresh Fruit, Del Monte Fresh Fruit, Aerovic, FumiPalma, as well as many governments around the world.
"Thrush is an impressive turn key operation that handles the entire manufacturing process from sheets of aluminum and steel to a finished plane," said Jason Moss, CEO of the Georgia Manufacturing Alliance. "Their team members are focused on producing a high-quality product that is helping to feed the world." To view photos of the tour, click on this link: https://drive.google.com/open?id=1bac-b0S4E-iBxTRoW6SrpNv2EoEDrN7T
About the Georgia Manufacturing Alliance:
The Georgia Manufacturing Alliance (GMA) is a membership-based industry organization founded in 2008 to support Georgia's manufacturing community. GMA provides over 100 events annually such as plant tours, educational sessions, tradeshows, and unique networking opportunities. These events are designed to share best business practices and to help make strategic alliances for its members. The Georgia Manufacturing Directory, Georgia Manufacturing Summit, Georgia Manufacturing Calendar, and BuyFromGeorgia.com are additional resources produced by GMA. To learn more about the organization, membership, and upcoming events, please call 770-338-0051 or visit their website http://www.GeorgiaManufacturingAlliance.com.