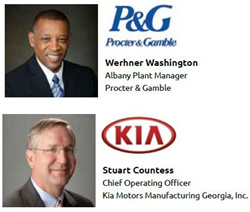 This is THE Manufacturing Event of the Year!
ATLANTA (PRWEB) September 30, 2019
Albany, Ga., Procter and Gamble Plant Manager Wernher Washington and Kia Motors Manufacturing Chief Operating Officer Stuart Countess will be the keynote speakers for the 5th annual Georgia Manufacturing Summit on Oct. 9 at the Cobb Galleria. The 2019 Georgia Manufacturing Summit is expected to attract over 1,000 industry professionals from across the Southeast to discuss the issues most important to Georgia manufacturers.
Washington will discuss his 35 years' experience in manufacturing and what it takes to succeed in the industry, while Countess will share Kia's global success with the Telluride, a crossover SUV manufactured at Kia's West Point, Ga., plant.
"The P&G Albany Plant could not have won the 2019 Georgia Manufacturer of the Year Award without first transforming our culture," said Washington. "I look forward to sharing my experience in transforming culture to build a winning manufacturing plant."
In addition to the keynote presentations, this event will have over 30 of the top industry leaders provide educational workshops to discuss Disruptive Technologies, Financial Perspectives, International Manufacturing, Sales & Marketing, Supply Chain Trends and Workforce Development.
The Summit is the only manufacturing event in Georgia that celebrates the people of manufacturing. Along with networking and learning opportunities, the event recognizes the best frontline employee, safety team, plant operational team and plant manager. The People of Manufacturing awards are sponsored by Southwire.
"Georgia is the number one place to do business for the sixth consecutive year and the people in manufacturing are a large part of that," said Jason Moss, CEO of GMA. "The Summit allows them to celebrate their accomplishments, learn from each other and be informed on industry trends. We highly encourage anyone involved in manufacturing or considering a career in manufacturing to join us on Oct. 9 at the Cobb Galleria."
About the Georgia Manufacturing Alliance:
The Georgia Manufacturing Summit is a trade show produced by the Georgia Manufacturing Alliance (GMA). Membership in the Alliance is not required to attend the Summit. GMA is a membership-based industry organization founded in 2008 to support Georgia's manufacturing community. GMA provides monthly plant tours, educational sessions, tradeshows, and unique networking opportunities designed to help make profitable business connections for its members. The Georgia Manufacturing Directory, Georgia Manufacturing Summit, Georgia Manufacturing Calendar, and BuyFromGeorgia.com are additional resources produced by GMA. To learn more about the organization, membership, and upcoming events, please call 770-338-0051 or visit their website http://www.GeorgiaManufacturingAlliance.com.