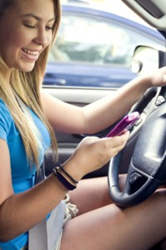 Today's teenagers are used to having everything easily accessible online.
Atlanta GA (PRWEB) October 31, 2015
GA Driver Safety.org, a top-rated provider of online driver's education for Georgia residents at http://www.gadriversafety.org/, is proud to announce a new blog post encouraging teens and parents to talk about the merits of online driving school. Teen drivers in the state of Georgia must be Joshua's Law compliant. Online driving classes offer teenagers the required 30 hours of study time to receive a Georgia driver's permit.
"Today's teenagers are used to having everything easily accessible online," explained Azhar Mirza, Managing Director of GA Driver Safety. "Studying for a driver's permit is another thing they expect to do from home. Some parents may not realize times have changed and quality driving training for teens can be found online. That is why we posted our new blog post with tips for teens and parents on the merits of online driver education."
To view the blog post about Georgia Drivers Education online for teenagers, go to: http://www.gadriversafety.org/2015/10/a-new-way-for-georgia-teens-to-learn-to-drive-online/. Information about Joshua's Law Compliance, the cost of online training for a driver's permit and driving details for the state of Georgia are available at that link, as well.
Georgia Drivers Education Online Blog: New School Teenagers Talk to Old School Parents about Driver's Permits
Old school parents may remember how difficult it was to earn a driver's permit in their teen years. Teenagers had to skip after school activities and rush over to the DMV for lectures and written tests. It took several more trips to complete driver's training and finally receive a permit. Because teens were not able to drive to the DMV, parents had to take time out to shuttle the students around. Testing for a driver's license in Georgia has changed in the past twenty years.
Georgia Drivers Education Online has issued a new blog about the "new school" of driver's education. Today's teenagers and parents no longer need to drop activities and waste time driving to and from written driver's testing. Even with the rigorous new rules of Joshua's Law, the Internet has provided a simpler way to study and pass a driver's permit test. Teens are encouraged to speak to parents about online driver's classes in the state of Georgia. Old school parents and new school teenagers find the best school for testing is GA Drivers Education online.
About GA Driver Safety
GA Driver Safety is a leading provider of Georgia drivers education online. Georgia residents, especially teen drivers seeking learner's permits, must comply with Georgia law. The informational website educates teen drivers on issues such as Joshua's Law compliant drivers education courses, how to obtain a learner's permit, and even defensive driving. Anyone interested in obtaining a Georgia driver's license will benefit from the online materials available from the company.