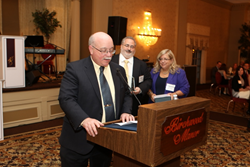 "Moretrench has always embodied a culture of community service"
ROCKAWAY, N.J. (PRWEB) May 31, 2016
Moretrench President and CEO Arthur B. Corwin, P.E., received the Interfaith Food Pantry's Pantry Partner Award on behalf of the company at the organization's 17th Annual Spring Gala held on April 8th, 2016 at the Birchwood Manor in Whippany, NJ. The award was presented by Mac Mackin, a trustee of the organization.
The IFP, which serves Morris County, NJ, provides emergency and supplemental food to area residents during times of need, and last year, they distributed almost a million pounds of food to more than 10,000 people. Moretrench, an underground construction company, is a longtime supporter of the IFP and Premier Sponsor for this year's Gala. Over the years, employees have conducted numerous food drives; volunteered regularly with the Thanksgiving program; participated in the Kitchen to Table program by cooking meals for homebound individuals; and provided more than $50,000 in financial support through sponsorship, employee contributions and donations in lieu of client holiday gifts.
Eighteen Moretrench employees attended the event, which raised almost $200,000 through sponsorships, ticket purchases, donations and events held throughout the evening, including raffles and a silent auction.
"Moretrench has always embodied a culture of community service," notes Corwin. "There are those in our community who are employed and work very hard yet still can't make ends meet. We at Moretrench try to give the extra support they need to make it."
To learn more about the Interfaith Food Pantry and the work it does, please visit the organization's website at http://www.mcifp.org. For more information about the work of Moretrench, both in underground construction and its contributions to the community, visit http://www.moretrench.com or call (973) 627-2100. The headquarters of Moretrench is located at 100 Stickle Ave, Rockaway, NJ 07866.
As an underground construction company with over a century of experience, Moretrench provides advanced solutions for deep foundations, dewatering and other complex engineering challenges. Based in Rockaway, NJ, Moretrench contributes to projects across the country, bringing experience with earth retention, environmental remediation, ground freezing, underpinning, grouting and other geotechnical construction projects.