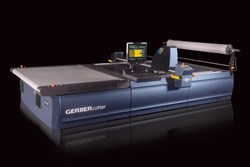 Paragon is so easy to use, it produces accurately cut parts the first time, every time.
TOLLAND, Conn., USA (PRWEB) October 15, 2013
Gerber Technology's new Paragon® cutting system will make its debut in the Americas on Oct. 23-25 at the IFAI Specialty Fabrics Expo in Orlando, Florida. Paragon enables manufacturers using industrial fabrics to produce high-quality cut parts regardless of material, application or experience, with just a few hours' training.
"With Paragon, we've changed the sewn goods cutting paradigm forever," said Steve Park, vice president and general manager of Gerber's Sewn Goods business. "Paragon is so easy to use, it produces accurately cut parts the first time, every time. It also generates single-click reports that help managers continuously analyze and improve their cutting workflow. We're confident that our customers will realize an exceptional return on investment with this system."
Paragon's sensing technologies constantly monitor operation and can automatically adjust and provide wizard-based feedback to operators to improve throughput and quality. And, with patent-pending Ever Sharp™ technology, customers can replace knife sharpening stones in seconds and get up to three times more usable life than traditional stones. And, its high-efficiency design reduces energy costs by up to 20 percent.
Visitors to Gerber's booth are invited to experiment with an interface simulator to experience Paragon first hand. "Users will see for themselves how Paragon systematically guides them through the entire cutting process," said Park.
Gerber Technology will also demonstrate its latest version of AccuMark® pattern design and nesting software for industrial fabrics. Visitors will witness how to quickly turn basic pattern pieces into a new product design, how to interactively match striped and patterned fabrics and how to generate nests automatically with Gerber's AccuNest software. For those unable to attend the expo, a pre-recorded demonstration of AccuMark is available on the company's website.
Also, this year, the IFAI Expo is co-located with the SGIA Specialty Printing & Imaging Technology Expo. Gerber Technology's Z1 cutter and ContourVision™ scan-to-cut system will be featured in SGIA's Digital Textile Printing Zone, an educational forum where attendees can gain a better understanding of digital textile printing.
Gerber's ContourVision and Z1 conveyorized, single-ply cutting system work in unison to quickly and accurately cut pre-printed materials. As the conveyorized cutter feeds printed fabric onto the cutting bed, the vision system scans the graphics printed on the fabric. The completed scan is then sent to the cutter's control station, where the outline (or contour) of the image is converted to a tool path and subsequently cut. The entire scan-to-cut process takes only minutes and eliminates the need for cut files entirely.
The IFAI Expo is one of the largest displays of the specialty fabrics industry. Visit Gerber Technology in booth #4818. SGIA's Digital Textile Printing Zone will be located in booth #2080.
About Gerber Technology
For more than four decades, Gerber Technology has been the world leader in providing sophisticated hardware and software systems to automate and more effectively manage product design and manufacturing processes. The company serves 25,000 customers, including more than 100 Fortune 500 companies, in the aerospace, apparel, retail, composites, packaging, furniture, technical textiles and transportation interiors industries in 130 countries.
Based in Connecticut, USA, Gerber Technology is owned by Vector Capital, a San Francisco-based, global private equity firm specializing in the technology sector that manages more than $2 billion of equity capital. Visit http://www.gerbertechnology.com for more information.
# # #