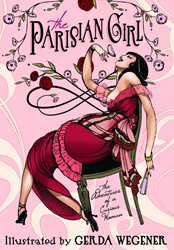 "I discovered a series of exquisite line art drawings that instantly captivated me. I fell in love with the art, then with the girl's story, and finally with the artist who brought her to life: Gerda Wegener."
Copenhagen, Denmark (PRWEB) March 08, 2016
Gerda Wegener was an artist with an eye for the beauty of women. In 1912, she moved to Paris during the final sparkling years of La Belle Époque—The Beautiful Era—one of the most vibrant times in the fabled city's history. French fans fell in love with her delicate, often daring, illustrations; cupids cavort, Aphrodite blushes, butterflies soar, satyrs tease, girls gossip, and beautiful ladies in the most fashionable attire—or demi-nude—play the heartstrings of handsome men around them.
Gerda Wegener devoted much of her early work to magazine illustration, with the most popular Parisian publications bringing her art to admiring fans. In 1913, Gerda began illustrating a story that, in retrospect, was one of the most unusual artistic endeavors of her entire career.
Through her art, Gerda Wegener gave life to Marinette; a precocious, teenage French girl who chose her own destiny to pursue dreams of independence. Marinette ran away from her rural home and, like Gerda Wegener, arrived in Paris during the final years of La Belle Époque. There, Bohemian lifestyles flourished in an artistically, intellectually and sexually permissive atmosphere. Champagne, absinthe and assignations flowed freely in the vibrant City of Light.
Marinette, however, was a moral girl—a virgin, no less—yet her tale shares her most intimate dreams, hopes, fears and escapades on a journey of self-discovery. Her compelling coming-of-age story is filled with humor, drama, romance, heartbreak and, ultimately, epiphany. In her inimitable style, Gerda Wegener illustrated Marinette's adventures every step of the way. Then, apparently overshadowed by events of the First World War, the work was entirely forgotten.
A century later, literary archaeologist Kent Davis was digging through an archive of pre-WWI periodicals seeking articles about colonial French Indochina. Working as editor for DatAsia Press, Davis divides his time between Florida and Southeast Asia, focused on locating forgotten literary works to restore as modern editions. Here, he found something entirely unexpected:
"I discovered a series of exquisite line art drawings that instantly captivated me. They depicted a young girl's adventures, and misadventures, in Belle Époque Paris. The art drew me into the girl's emotional journey. First, I fell in love with the art, then with the girl's story, and finally with the artist who brought her to life: Gerda Wegener."
Davis spent four years researching Gerda Wegener's life and art, restoring her drawings, distilling the text, and translating it to English. According to Davis, no other book includes this many Gerda Wegener illustrations of the same subject. The result is a full-color modern edition titled "The Parisian Girl–The Adventures of a Curious Woman," featuring more than one hundred original illustrations by Gerda Wegener, many of which have not been seen for a century. The book is scheduled for release mid-2016.
Denmark's ARKEN Museum is now featuring the largest exhibition of Gerda Wegener's art in history. In recognition of this extraordinary homage, Davis chose to unveil a special advance reading proof of "The Parisian Girl" for the first time at the ARKEN Museum on the 131st anniversary of Gerda's birth. He will present his talk, "The Parisian Girl: Gerda Wegener and the Power of Her Art," at the ARKEN on Tuesday, March 15, 2016 at 2:30PM.