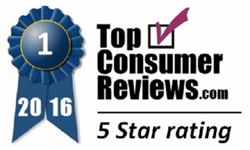 For these reasons, we give Rocket Languages our highest rating among providers of German Lessons in 2016.
Overland Park, KS (PRWEB) August 18, 2016
TopConsumerReviews.com recently gave their top rating to Rocket Languages, a leader among services that offer German Lessons.
German is the third most common world language taught in American schools today. Spoken by nearly 100 million people around the globe, it's the primary language in Germany as well as the official language in eight other countries as well. Many people are interested in learning or improving their German as a means of connecting more deeply with their family roots, preparing for travel to Germany, or speaking with millions of individuals in the U.S. alone who claim German ancestry. Because attending in-person language classes isn't always possible, there are several companies offering German Lessons through audio files, DVDs, and even interactive websites, making study accessible for virtually every student.
"Rocket Languages has an established track record for teaching new languages, including German Lessons," explained Brian Dolezal, of TopConsumerReviews.com, LLC. "Rocket German approaches language learning from many angles: audio lessons, voice recognition exercises that compare the student's spoken German against that of a native speaker, language and culture lessons that help learn German in context, and much more. We especially like that Rocket German offers a four-hour set of lessons as a free trial, in addition to a 100%, 60-day money back guarantee. For these reasons, we give Rocket Languages our highest rating among providers of German Lessons in 2016."
To find out more about Rocket Languages and other sites for German Lessons, including reviews and comparison ratings, please visit the German Lessons category of TopConsumerReviews.com at http://www.topconsumerreviews.com/german-lessons/.
About Rocket Languages
Rocket Languages is one of the world's leading providers of online learn-a-language software packages. Setting themselves apart from the competition by placing a strong and immediate emphasis on what they call conversational learning, their dynamic learning courses have students speaking the language in a modern, fun, and conversational manner right from the start. Originally starting with Rocket Spanish in 2005, Rocket Language has expanded to include Arabic, Chinese, German, Italian, Hindi, Korean, American Sign Language, and English courses for speakers of Spanish and Japanese.
About TopConsumerReviews.com
TopConsumerReviews.com, LLC is a leading provider of independent reviews and rankings of hundreds of consumer products and services. From German Lessons to Passports and Travel Insurance, TopConsumerReviews.com delivers in-depth product evaluations in order to make purchasing decisions easier.