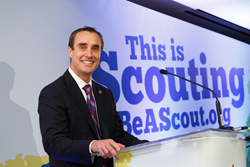 We are thrilled to welcome an entrepreneur of the caliber, high level of energy and vision as Gerry Morton to lead the Los Angeles Area Council.
Los Angeles, CA (PRWEB) February 04, 2015
Successful Southern California entrepreneur Gerry Morton will lead the Boy Scouts of America's Los Angeles Area Council (LAAC) as it commemorates its 100th year in Los Angeles. Morton was elected to serve a two-year term as President and Board Chairman beginning in 2015. He will direct LAAC's leadership team in their mission to improve the lives of youth across the region for the next century.
"We are thrilled to welcome an entrepreneur of the caliber, high level of energy and vision as Gerry Morton to lead the Los Angeles Area Council," said Chuck Keathley, LAAC Scout Executive/CEO, noting the organization was formed in 1915 in L.A. "His level of engagement over the past two years, as President-Elect, proved to be a tremendous asset as he helped grow and move the Boy Scouts in exciting directions that I expect will generate huge dividends in the future."
The LAAC's Business Leaders' Breakfast on March 4th, showcasing numerous ways the Boy Scouts improve communities throughout Southern California, is open to the public. Tickets can be purchased online at 2015 Business Leaders' Breakfast event page. In addition to hearing inspiring words from business leaders, scouts achievements will be highlighted at the event as a way to recognize their leadership and service to their community.
In the coming months, Morton notes, the LAAC will continue growing the ways it inspires success in the lives of young boys through activities ranging from camping to rocketry. Merit Badge Days have taken youth into the construction site of the tallest building west of the Mississippi, in front of judges at mock court, and into financial literacy sessions. In 2014, more than 12,500 Merit Badges were awarded to scouts for successfully completing service projects such as food drives to fight hunger and Eagle projects in their local communities. Scouts also continue to stand as role models of good citizenship at civic events and parades, including the Rose Parade.
"I am excited to lead an organization that plays a vital role in helping shape future leaders of our communities," said Morton. "Today, the need for scouting values has never been greater and I am honored to serve the LAAC. Personally, my scouting experiences as a boy and young man helped prepare me for success in business and life. It is a privilege and honor to do my part to ensure that scouting is available to all our boys and generations to come."
Morton joined Scouting in 1984, earned the rank of Eagle Scout in 1987, and joined the District Committee in 2001. He has served as Vice President of Membership on the Council Board, as well as Executive Vice President and President Elect. During his years volunteering, Morton's skills and entrepreneurial drive benefited the LAAC in areas such as membership programming, and direct interaction with scouts.
Professionally, Morton is President and CEO of EnergyFirst, a leading company in the all-natural protein and supplement industry, ranked by Inc. magazine as one of the fastest growing private companies in America. As a nutritionist, educator, and athlete, Morton is committed to providing customers with all-natural, science-based, effective products for optimal nutrition, weight loss, and a healthy lifestyle. He holds a master's degree in nutrition with honors, an Executive MBA from the UCLA Anderson School of Management, and a bachelor's degree in entrepreneurship with honors from the University of Arizona. He is also a graduate of the MIT Entrepreneurial Masters Program.
In addition to his volunteer role with the Boy Scouts, Morton was Past-President of the Entrepreneur's Organization (EO) in Los Angeles, was Past President of the Viking Charities, and is a Rotary Board member. He enjoys a thriving family life as a husband and father. Morton is a private pilot, ship captain, and licensed real estate broker. He is a veteran of four Ironman Triathlons (including Hawaii), completed more than thirty marathons (including Boston), the Catalina Classic 32 mile paddle board race, numerous other top athletic competitions, as well as recently hiking the 230-mile John Muir Trail in seven days.
About The Boy Scouts of America, Los Angeles Area Council
The Boy Scouts of America, Los Angeles Area Council (LAAC) was started in 1915 and has served millions of youth since its inception. Currently, the LAAC serves more than 25,000 youth in 40 cities and 100 communities across the greater Los Angeles area, delivering quality programs each year via 5,000 trained adult volunteers. With a focus on character development, scouts are trained to be the leaders of tomorrow.
# # #