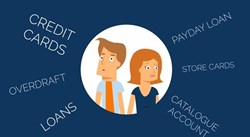 41% of people lack the skills and confidence to deal with their creditors alone while 44% do not know what debt solutions are available to them.
Manchester, Lancashire (PRWEB UK) 13 February 2014
At the end of 2013, the BBC reported that the Chamber of Commerce had announced that in 2014 the UK economy will finally surpass its pre-recession peak with the UK's Gross Domestic Product (GDP) set to grow by 2.7%.
While this is undoubtedly positive news for the nation, one question still remains – how will people struggling with their finances manage to clear their debts?
Towards the end of 2013, the government run charity – The Money Advice Service – issued findings that identified the level of serious debt in the UK, with almost 9 million Britons admitting to being in serious debt.
The report showed that 70% of those asked felt anxious about their debt problems while 83% said that repaying their debts was very important to them.
With a high proportion of people wishing to resolve their financial worries, it's startling to discover that only 17% of the over-indebted population is currently assessing their situation.
This could be because 41% of people lack the skills and confidence to deal with their creditors alone while 44% do not know what debt solutions are available to them.
Shaz Sulaman from leading financial solutions company Baines & Ernst says, "Being in debt can be an isolating experience for many people. If you're struggling with your finances and don't know where to turn to for help, it is easy to feel utterly alone.
"At Baines & Ernst, we're keen to spread the message that you don't have to struggle alone – there is help available to you and there are ways for you to clear your debts within your current budget. We've recently released an animation called 'Debt – a small word with big meaning' to help people discover which solutions are available to them."
Established in 1996, the Manchester-based company has helped more than 140,000 people escape the pressures of debt and hope that the film will encourage people to seek help with their debts.
"The Money Charity recently released statistics that indicate consumer lending in the UK stands at over £158 billion – with the average household debt, excluding mortgages, standing at £5,989. Debt may be commonplace in many peoples' lives – but it certainly doesn't mean that they have to put up with the strain of financial pressure.
"We wanted to show those in debt that they are not the only ones going through it – that there is a support network they can lean on and get the help they need to turn their dream of living debt free into a reality.
"Getting out of debt is possible – we're here to give people the tools to do so. We hope this animation will inspire people to get the help they need," concludes Shaz Sulaman of Baines & Ernst.
For those who want to view the animation, they can click to the Baines & Ernst YouTube channel.