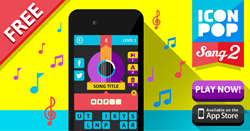 Enjoy the stunning acoustic cover of your favorite song as you try to guess the title or artist.
Jakarta, Indonesia (PRWEB) April 17, 2014
Two years since the original release, Icon Pop series has racked up more than 30 million downloads, and steady 4.5/5 stars rating. Icon Pop Song itself is a quick-trivia game for music lovers who want to challenge themselves to guess the artists name or song titles from an extensive sets of original acoustic guitar play. And now, Icon Pop Song 2 is here, with a new set of tunes, from classics to most popular hits to date.
Here is the quick highlight of Icon Pop Song 2 features:
● Original acoustic recording from our own kitchen.
Enjoy the stunning guitar play and answer the song-trivia from various genres of music.
● Don't know the answer? Use the social features.
Connect your Facebook & Twitter accounts to seek help from your friends!
● Feel a bit unsure with your guess? Use power-ups.
Skip, Get Hints, or Reveal the Answer button is only one tap away.
● Addictive game-play, perfect for a get-together.
Play with friends, family, co-workers, or community members for hours on end!
If you are into music and love fun quizzes, be sure to download Icon Pop Song 2 on App Store for free!
About The Developer:
Alegrium is an independent studio that develops games on both iOS and Android platforms. It was founded on the principle of "happiness" and it is at the core of their existence, from the games they created to the way they work together. The company is the creator of Icon Pop Series (Icon Pop Quiz, Icon Pop Song, Icon Pop Brand, etc), a simple yet addicting trivia game, infused with the soul of pop culture. Icon Pop Series has been live globally since November 2012.