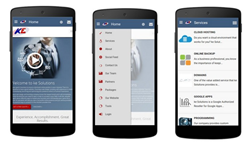 An app is first and foremost a tool to keep your clients happy, attract more and increase sales. This is what we do. - Lorin Morar, CEO
(PRWEB) May 29, 2015
ke Solutions offers a competitive app building service in terms of price, delivery timetable and quality. Low cost apps need not be shabby looking and neither do they need to be lacking in style. Starting from March this year ke Solutions is very pleased to announce a low cost option for personalized, dynamically updatable mobile apps intended for small business facing tight budgets. Additionally, ke Solutions offers customers the freedom to choose their pricing plan: from the minimal option of creating a low cost app to the hassle free option of almost instant dynamic update that is included in the premium service package for a monthly fee of $75.
While a good, personalized, native app with customized design and the features starts at $1000 and can go much higher, ke solutions can now offer small businesses a low-cost online mobile app builder that allows customers to create apps for ~ $400 or less. Customers can still have extensive personalization applied to their app from a whole palette of design options and features to choose from. Furthermore, a customer can easily make the app even more personalized with pictures, images, logos and branded content.
An app is first and foremost a tool to interact with the target audience of a business or organisation. Hence the customer base is an extremely valuable source of information provided the company that owns the database also has the tools to read and interpret it. For mobile app owners interested in marketing intelligence, ke Solutions provides access to vital statistics such as page traffic, registered users or app adoption.
For more information, contact ke Solutions directly or visit ke Solutions Appbuilder webpage
About ke™ Solutions, Inc.
ke™ Solutions, Inc. (http://www.kesolutions.biz) under the leadership of Mr. Lorin Morar, offers rapid website development and design, ensures optimal content performance with the proprietary ke™ engine website software, as well as custom software solutions and search engine optimization. The ke™ engine is a software package of development solutions designed to allow companies to leverage the web by giving them the power to create, update and maintain their own websites. Empower your company's online presence and stay a leap ahead with ke™ Solutions, Inc.