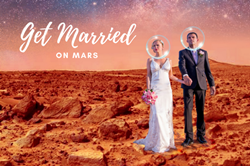 Famous Las Vegas wedding venue Chapel of the Flowers has acquired two acres of land on the planet Mars
LAS VEGAS (PRWEB) April 01, 2020
Couples unable to wed on Earth now have an option to elope to Mars. For anyone who has gazed up at the stars and dreamt of having a wedding that eclipses a Big Bang Theory ceremony at Comi-con, or perhaps has fantasized about an actual Star Wars wedding in outer space, the option to say "I do" on the Red Planet is now about to come true.
Famous Las Vegas wedding venue Chapel of the Flowers has acquired two acres of land on the planet Mars. In an effort to provide unique weddings for couples unable to get married on earth in upcoming months, CEO Donne Kerestic had the brilliant idea of taking the destination wedding business to new heights and finalized the two-acre purchase on Mars on March 31, 2020.
The Married on Mars Wedding Package includes:

18 rose freeze-dried bouquet
Matching freeze-dried boutonniere
Space suit rental for the wedding couple with optional veil helmet
14 candid ceremony photo prints
Breathtaking 30-minute post ceremony photo session on Mars
Mars sand ceremony
Dinner-for-two with Astronaut Cuisine
This Martian wedding package doesn't include: Transportation to and from planet Mars for the wedding couple, wedding service staff, and guests (estimated transportation costs $500K per person); fees for a Martian marriage license and marriage recording fees; minister fee, and gratuities for wedding staff.
Earthlings have been designing space-themed weddings for years, and it was only a matter of time until a company took these ideas and made them a reality. Chapel of the Flowers will begin discussions with an earth-based architect to design an otherworldly venue. The Chapel plans to keep the design top secret until it is ready to be unveiled but promises that it will be as spectacular as the destination itself. With the lack of building permits needed on Mars, it is anticipated that construction will begin within months.
In case it is too expensive to fly all your guests to Mars, the chapel will be offering a live broadcasting option that any couple is welcome to add on to their package. This will allow your friends and family who may not be able to make the journey, whether due to finances or distance, to still partake in seeing your ceremony live as it happens.
In celebration of the recent purchase of land on Mars, Chapel of the Flowers will be conducting FREE ceremonies on Mars once the venue is completed. The "Married on Mars Wedding Package" will be FREE for a limited time only.
This package is the perfect opportunity for any adventurous couple who desires an out-of-this-world ceremony.
Chapel of the Flowers added that they are hoping to secure Elon Musk or Sir Richard Branson to provide transportation and officiate at the inaugural wedding ceremonies.
(This "Get Married for Free on Mars" Wedding Package, an April Fool's joke, is intended to bring a bit of joy to human beings. The CEO of Chapel of the Flowers did indeed purchase two acres on Mars, yet doesn't have any firm plans to host weddings in outer space. Chapel of the Flowers is booking weddings at their one acre venue in Las Vegas and encourages couples to visit http://www.littlechapel.com to see photos of their elegant indoor chapels and outdoor gardens.)
For media inquiries please contact Chapel of the Flowers Marketing Manager Michelle Goldberg at 702-735-4331 or media@littlechapel.com.