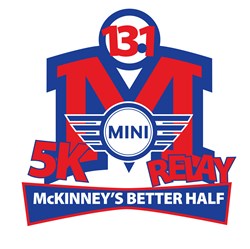 Flat and fast course! Finisher medals!
McKinney, Texas (PRWEB) October 01, 2013
Get Racing (formerly Stonebridge Racers) is proud to announce the 1st Annual McKinney Mini. This race will have distances for everyone. There is a half marathon, two person half marathon relay and a 5K.
The 1st Annual McKinney Mini Race will take place on November 9th, 2013 in Craig Ranch. Get Racing has partnered with The Beach and the Muscular Dystrophy Association to produce an awesome half marathon event. The MINI starts at The Beach and will run down flat roads to Stonebridge Ranch and return back to The Beach in Craig Ranch. The race course will have an entire lane coned off for the runners and policemen will be located at major intersections for the safety of the runners. If you are not ready for a half marathon yet, no problem! Partner up with a friend and signup for the relay. The first half is approximately 5.3 miles and the second leg is 7.8 miles. Still too long? Register for the 5K! Upon completion of the race all competitors will be awarded a custom finishers medal. The race will benefit the Muscular Dystrophy Association. We will have standard age group awards for the 5K and the half and to keep things interesting there will be random prize drawings too but you must be present to win! All preregistered runners will receive custom race sweatshirts! The race will be timed by timed by Race Chip Timing. Race results will be posted at the event and will be posted online after the race. The half marathon course will be open for 3.5 hours. For more information, and a course map visit our website. Don't delay, signup today and tell a friend! You will want to be part of this great 1st time event .
Get Racing (formerly Stonebridge Racers) was founded in 2001 by Michelle Huddleston. Get Racing is a full service proffessional race production company. The staff of Get Racing are athletes themselves and have over 50 years of combined experience. They are dedicated to producing both fun and safe events for the community . From a charity fun run to a triathlon, Get Racing events have something for everyone. They believe in a healthy lifestyle and want to support that belief by creating events that get people outside exercising. Visit http://www.GETRACING.org for a list of upcoming races.