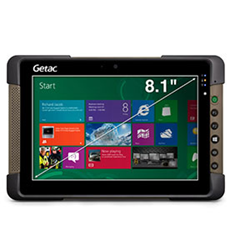 The Getac T800 tablet is ideal for use in harsh working environments such as the utilities, military, field service, public safety, and transportation sectors
Chandler, Arizona (PRWEB) November 04, 2014
Group Mobile, well known for carrying the top brands in rugged laptops, rugged tablet PCs, rugged SmartPhones, and rugged handheld computers has recently extended its product offerings to include the new Getac T800 rugged tablet. At less than 9 x 6 inches in size and possessing a brilliant 8.1-inch display, the T800 is the perfect compact rugged tablet for today's mobile workforce. In addition, for a limited time, Group Mobile is offering a free X-Strap to provide users a sturdy, comfortable grip on the new Getac T800 tablet!
"Interest in rugged tablets has never been higher," said Rowina Lee, president of Getac. "We designed the new compact T800 rugged tablet with the mobile worker in mind; combining every bit of know-how we've gained building rugged computers over the past 25 years. We're excited to get it into the hands of our customers."
The Getac T800 rugged tablet features Getac's revolutionary LumiBond technology to achieve a display that is sunlight-readable, offers amazing contrast, and provides crisp colors. By bonding the display glass with the touch panel and LCD, Getac created a single panel that is extremely durable and improves readability. In addition, the T800 rugged tablet is built with the latest quad-core Intel N3530 2.16GHz processor (up to 2.58GHz) and can remain running at near full speed while boasting up to 8 hours of battery life on a single charge.
The Getac T800 includes the latest 802.11ac Wi-Fi for data-transfer speeds up to three times faster than 802.11n products. Designed to be used in the field, the T800 can be configured with 4G LTE cellular data with a tunable 8-band antenna capable of supporting a wide array of LTE bands.** The T800's dedicated GPS offers two times the search capacity, fast location positioning, and improved accuracy. For vehicle deployments, 4G LTE T800 models are configured with triple pass-through antenna ports allowing users to simultaneously connect high-gain GPS, WWAN, and WLAN roof-mounted antennas.
The rugged T800 was engineered to survive drops from as high as 6 feet, shocks, spills, vibration, dust, liquid, and more. The T800 has been independently tested and certified to MIL-STD 810G and IP65. It is also backed by Getac's bumper-to-bumper warranty which includes damage that occurs due to accidents and environmental exposure. ***
"The Getac T800 tablet is ideal for use in harsh working environments such as the utilities, military, field service, public safety, and transportation sectors," said Stephanie Kreitner, executive vice president for Group Mobile. "The thin and light-weight design and industry-leading speed, performance, and features the T800 offers are sure to appeal to the growing needs of our highly mobile customers."
The Getac T800 rugged tablet computer can be ordered from Group Mobile now. To learn more and take advantage of Group Mobile's exclusive offer for a free X-Strap, visit http://www.groupmobile.com/product.asp/sku=7213. For the X-Strap, enter promo code T800XSTRAP when placing an online order, email product-sales(at)groupmobile(dot)com, or call toll free 866-RUGGED8 (1-866-784-4338) to speak with a rugged computer sales specialist. This exclusive offer is good until November 30, 2014.
About Group Mobile
Headquartered in Phoenix, AZ, Group Mobile serves customers all over North America. Customers range from Fortune 500 companies and the U.S. Military, to local police/fire/ambulance, to small and mid-size businesses, to the frequent traveler that needs something more durable than a commercial, off-the-shelf computer. Group Mobile carries all the leading rugged computing brands. In addition, Group Mobile offers vehicle docking and mounting equipment from Gamber Johnson, Ram Mounts, and Havis. To learn more about rugged computers and how they differ from commercial, indoor computers, check out the Rugged Computer Guide or visit us online at http://www.groupmobile.com.
About Getac
Getac is a key subsidiary of MiTAC-Synnex Business Group (2013 consolidated revenue $26.4 billion USD). Getac was established in 1989 as a joint venture with GE Aerospace to supply defense electronic products. Today, Getac's business includes rugged notebooks, rugged tablets, and rugged handheld devices for military, police, fire, utility, insurance, and field-service customers. For more information, visit us.getac.com.
** LTE model must be configured at time of manufacturer. Cellular data plan requires subscription fees sold separately.
*** T800 comes standard with a three-year bumper-to-bumper warranty. For full details of the warranty protection, see the terms and conditions at us.getac.com.