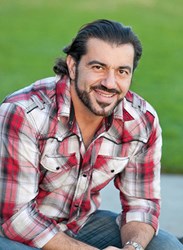 The five tactics that I've discovered will help personal trainers sell more of the leads that they're getting now into their training program...
Chino Hills, CA (PRWEB) December 23, 2013
Lots of fitness professionals in today's industry struggle with the issue of how to get more personal training clients without spending tons of money on advertising. That is why fitness marketing guru, the man behind the popular blog PTPower.com, and the founder of Fit Body Boot Camp, Bedros Keuilian, wanted to reveal five strategies for getting more clients and keeping them as loyal customers.
Keuilian explains, "One of the biggest lies that personal trainers have been told is that they need more and better marketing. While that may be true in some cases, more often than not, they have a closing problem. The five tactics that I've discovered will help personal trainers sell more of the leads that they're getting now into their training program."
Here are Keuilian's five tactics on how to get more personal training clients without advertising:
1. Establish rapport with your leads. People only do business with those they like and trust, so it's important to establish a connection between you and your potential clients. Social media is an excellent way to get your business' name out there without spending any money, and you'll have the opportunity to let your community know what your business is all about.
2. Find the reason why your potential clients are seeking personal training. People buy your service because they want something, not because they need to get in shape or be healthier. For example, someone might come to you because they say the need to lose weight, but the real reason could be much more complicated than that. They could have just gone through a nasty divorce and want to get back into the dating scene, or they've slowly noticed that their clothes don't fit anymore and they're not willing to buy bigger sizes, or things of that nature. Once you figure out the real reason why they want to lose weight or tone up, you'll have a better chance of converting your prospect into a loyal paying client.
3. Sell the benefits of your personal training business, not the features. No one cares about the features in your gym or boot camp like air conditioning and how many treadmills you own. All potential clients want to know is what's in it for them or how they benefit from joining your program.
4. Create a sense of urgency and stress it. If you can't build urgency during your sales process then it doesn't matter how amazing your workouts are, you're always going to struggle to make the sale. Stressing urgency is important because it gives your potential clients a reason to buy your services now, rather than later.
5. Finally, ask for the sale. A lot of fitness business owners and personal trainers forget this last step, but it's one of the most important because if you don't then you're leaving your sale up to chance. Be prepared to hear the word "no" a couple of times before you hear a "yes." The trick is to overcome their objections by asking questions and giving compelling answers that build up your business' value.
About Keuilian Inc.
Bedros Keuilian has been called the "hidden genius" behind many of the biggest names in the fitness industry – including top celebrity fitness trainers seen on television networks such as ABC and NBC. Keuilian is also the founder of the popular fitness marketing blog used by thousands of personal trainers worldwide, PTPower.com is and the president, founder, and CEO of the world's fastest growing indoor fitness boot camp franchise, Fit Body Boot Camp. Keuilian is a long time fitness business coach, consultant, and marketing expert who has taught thousands of personal trainers worldwide how to start a personal training business and grow it to massive success.
To find out more about Bedros Keuilian and his fitness marketing blog, PTPower.com, or please visit http://www.ptpower.com/.