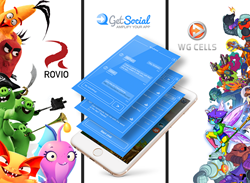 "The integration in Nibblers works like a charm for us. Friend invitations, and value per user, is growing more than ever before, giving us much higher yields. It's the perfect tool for organic installs!" - Matt Wilson, Director of BD at Rovio
Den Haag, Netherlands (PRWEB) July 29, 2016
Having recently on-boarded more Enterprise customers, Rovio and WG Cells, GetSocial is all set to take mobile apps to a whole new level of growth with its in-app marketing SDK. Rovio has implemented GetSocial's tools in Nibblers, while WG Cells is focusing on growing Smash Squad.
Both of the mobile gaming companies are focusing on increasing their app's user base, using the power of players' word-of-mouth. To start with engagement and organic growth, they are making use of GetSocial's Smart Invites to power their referral campaigns.
Smart Invites are app invites that can be sent to any friend or contact via most popular messaging apps (Whatsapp, Kik, Line, Twitter, Facebook etc) and can then be tracked to see all the install events that occur from these channels, so that app developers and marketers can further optimize their growth strategies.
Top execs at Rovio and WG Cells are positively surprised with the results and ease-of-use of Smart Invites:
"The integration in Nibblers works like a charm for us. It is blended beautifully into our game. Friend invitations plus value per user is growing more than ever before, giving us much higher yields. It's the perfect tool for organic installs!"
--Matt Wilson, Director of Business Development at Rovio
"GetSocial is narrowcasting at scale. Your players know best which of their friends want to play your game… so put them to work."
--Mike Schmid, Marketing Director at WG Cells
Smart Invites have proven to score very high conversion rates with an average of over 18% from click to install. This lowers the effective user acquisition costs (eCPI) and increases retention rates. The latter primarily because apps that are recommended by friends or family, are trusted more than others.
The conversion rates observed by apps using Smart Invites is significantly higher than current industry benchmarks (18% vs 7%, resp.). This only reinforces that giving the ability to your users to 'easily' invite their friends, as well as tracking and attributing the installs successfully, can help marketers create more effective app marketing strategies.
Reinout te Brake, Chief Evangelist at GetSocial adds: "Get more value out of your marketing budget. Whilst CPI prices keep increasing, with GetSocial your eCPI gets to an acceptable price level since your app users become your ambassadors. This is crucial for any app to be successful."
About GetSocial
Besides Smart Invites, GetSocial offers in-app chat, activity feeds and insights, to amplify the app's social marketing power. This powerful in-app marketing platform helps developers in their quest to lower their user acquisition costs, increase retention and monetization through better engagement and understanding of users.