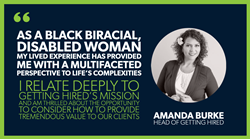 "Amanda is someone whose experiences, both professional and personal, will allow us to determine how we might provide even greater value to our clients in helping them expand their inclusion and diversity initiatives."
HANOVER, Md. (PRWEB) July 15, 2021
Getting Hired, a disability inclusion recruitment solution, announced today that Amanda Burke has been appointed the Head of the company. An experienced business leader, Burke will assume responsibilities on July 26, 2021, timed perfectly with the 31st anniversary of the American with Disabilities Act (ADA).
Burke comes to Getting Hired from Actalent, an independent Allegis Group subsidiary formerly Aerotek's Engineering and Sciences division. She has been part of the Allegis Group family since August 2011, most recently serving as a Senior Account Executive and Engineering Practice Lead. Her time in this role gave her extensive experience in partnering with clients and developing solutions, which will serve her well in leading the Getting Hired team and driving customer relationships.
"Amanda is someone whose experiences, both professional and personal, will allow us to determine how we might provide even greater value to our clients in helping them expand their inclusion and diversity initiatives," said Randy Gulian, Executive Vice President. "We are thrilled to have her lead our company."
Getting Hired works with over 120 Fortune 500 companies to implement strategic disability and veteran hiring and retention programs, providing training, employer branding and connecting employers with job seekers with disabilities, among other segments of intersectionality.
"As a Black biracial, disabled woman my lived experience has provided me with a multifaceted perspective to life's complexities," said Burke. "I relate deeply to Getting Hired's mission and am thrilled about the opportunity to consider how to provide tremendous value to our clients."
For more information about Getting Hired, visit http://www.gettinghired.com.
Connect with Amanda Burke on LinkedIn.
About Getting Hired
Getting Hired, an Allegis Group Company is a recruitment solution dedicated to helping inclusive employers hire professional individuals and veterans with disabilities. Getting Hired is dedicated to building inclusive workforces. At our core, we strive to help employers create an inclusive and diverse workforce for job seekers and their employees.
Media Contact:
Lauren Patton, Marketing Manager
Getting Hired
248.764.1542
lapatto@gettinghired.com
gettinghired.com