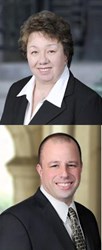 Gettry Marcus is "Always Looking Deeper" to build value for our clients.
Woodbury, NY (PRWEB) January 21, 2014
Gettry Marcus CPA, P.C. announced the promotions of Pamela L. Burman to Principal in the firm's Accounting and Auditing Group and Gabe Shurek to Director in the firm's Business Valuation & Litigation Services Group, effective January 1, 2014.
Pamela Burman, a resident of Crestwood, New York, has over 30 years' experience in accounting, tax and financial services. Ms. Burman specializes in providing audit and consulting services for regional and national middle market privately held companies and not-for-profit organizations. She has significant experience performing audits and providing consulting services to companies in various industry sectors with emphasis on construction, manufacturing and real estate entities. In addition to her new role as Principal, Ms. Burman will also be managing the New York City office of Gettry Marcus.
Gabe Shurek, a resident of Massapequa Park, New York began his career with Gettry Marcus as a junior accountant in 2001, then rising through the ranks as a senior accountant, manager and Senior Manager. With over 15 years' experience in forensic accounting and fraud detection, Mr. Shurek has been engaged by attorneys to perform services in complex litigation settings. He has managed engagements in various types of federal and state commercial matters, including stakeholder disputes, marital dissolutions and contract disputes. In addition, Mr. Shurek has applied forensic techniques in the area of bankruptcy, where he has represented bankruptcy Trustees, debtors and creditors' committees in assignments such as solvency & preference analysis and investigations for fraudulent transfers.
"Gettry Marcus is delighted to announce the promotions of Pam and Gabe," said Steven L. Marcus, Managing Partner. "They are outstanding accountants in their respective practice areas and their exceptional capabilities will serve to further bolster Gettry Marcus' strengths into the future," added Marcus.
ABOUT GETTRY MARCUS
Gettry Marcus CPA, P.C. is a Top 200 firm nationally with offices in Woodbury, Long Island and New York City. We provide accounting, tax, and consulting services to commercial businesses, high net worth individuals and various industries which include Real Estate and Health Care. We have one of the premier and most credentialed Business Valuation and Litigation Groups in the New York Area.
Our experience in diverse industries and a highly talented and experienced professional staff gives us the ability to share valuable insights into our clients' businesses, to better understand their goals and problems and to help them attain the vision they have for their company.
Gettry Marcus is "Always Looking Deeper" to build value for our clients.
######