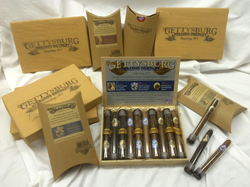 Gettysburg, Pa. (PRWEB) April 03, 2017
Lost the element of surprise? Tired of the same old gift options? Check out new birthday gift ideas to make his or her next birthday truly memorable.
Spice it up this year with a novel gift or collectible from GettysGear.com. The online site specializes in apparel, accessories, home décor, and a wide array of custom-blend products dedicated to commemorating historic Gettysburg and creating awareness for the Gettysburg National Military Park.
With many of these gift items produced, hand-crafted and packaged by local businesses, GettysGear.com is a favorite of Civil War and history buffs as well as individuals across the nation looking for unique gift items or just a really good cup of coffee. Here are just a few of the site's most popular items made in Gettysburg:

Connoisseur coffee blends and mugs –coffee made from the finest high mountain, shade-grown beans and hand roasted in small batches by the Great Gettysburg Coffee Company™
Hand Cast Aluminum Eagles made in the traditional sand cast method and meticulously hand-painted in a four-step process are available in a variety of finishes and sizes from 12" to 25" wing spans
Guardians of Gettysburg® Statuary are 5 1/2" tall statues hand-cast and finished right in Gettysburg and available in antique blue, bronze, pewter and silver
Civil War Field Bags and Replica Revolvers and Rifles hand-cast or finished with commemorative etchings and art
Comfortable, Handmade Throws made from 12 hand cut 12 1/2" squares featuring popular Civil War art in a natural blue, gray and color schemes
Original Gettysburg Cigars® hand-crafted by the Great Gettysburg Tobacco Company® and offering a variety of tobacco blends and sizes made with Pennsylvania leaf wrappers
GettysGear.com accommodates last-minute orders by shipping all items via USPS Priority Mail or FedEx Ground to ensure speedy delivery. Some orders can also be combined into special gift packs to reduce purchase and shipping costs.
Take a step back in time and a step up in quality by visiting http://www.GettysGear.com. Additional details are also available by emailing info(at)gettysgear.com.