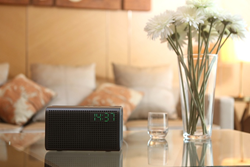 By taking advantage of cloud-based technology, we are able to bring advancements to our speaker that are convenient, practical and fun.
Chino, CA (PRWEB) March 21, 2016
GGMM, an innovative company known for producing powerful, advanced speakers, is reinventing the music world with E3. A first-of-its-kind speaker, E3 connects to the cloud to play music, utilizing its advanced smart cloud music play. GGMM E3 has launched a Kickstarter campaign with a goal to raise $20,000 in 45 days for further production of the product.
E3 uses innovative smart cloud technology to connect to Wi-Fi with a push of a button. This feature allows for streaming audio using Wi-Fi and the free GGMM E Series application, allowing music to continue to play even when the smart device is turned off. With the application, users are able to save six personalized presets from favorite music services such as Pandora, Spotify, TuneIn, Tidal and more, which can then be accessed with a push of a button on E3. The GGMM E Series app is compatible with any iOS or Android device and also provides users with the ability to share songs with other E3 owners.
E3 has an advanced multi-room system that allows more than one E3 speaker to be connected at a time. This allows users to enjoy left/right channel play and create quality, powerful sound. Friends can also connect multiple smart devices to one E3 speaker to take turns streaming music or choosing songs.
"We have designed E3 to be one of the most technologically advanced speakers of 2016," said GGMM CEO, Jianchao Tong. "By taking advantage of cloud-based technology, we are able to bring advancements to our speaker that are convenient, practical and fun. E3's smart cloud music play is what sets itself apart from the others and the sound quality this compact speaker produces is something you have to hear to believe."
E3 is a compact, multifunctional speaker that, in addition to producing quality sound, can act as a digital clock, alarm and smart device charger via USB port. E3 also has the capability to play music via Wi-Fi direct mode Airplay/DLNA, Bluetooth, and AUX connectivity for easy listening. While E3 is tiny, the sound quality is mighty. This speaker puts out Hi-Fi sound with dual 2.5" full-frequency speakers and 3" bass strengthening passive radiator.
E3's innovative design and technologies bring users a high-tech experience, with easy to understand functionality. Designed to have the power of an expensive, large speaker, E3 is offered at a more affordable price while taking up less space, making it perfect for home use. E3 can now be preordered starting at $79 for one E3, with the choice of a pearl white, ice blue or dark gray speaker. To learn more about E3, please visit the E3 Kickstarter page bit.ly/E3SpeakerKS.
ABOUT GGMM
Founded in 2001, GGMM began as a design house. Due to high demand for its innovative products, GGMM launched its own brand in 2008. GGMM is a company that is devoted to providing the end user with the best experience possible, specializing in visually elegant, yet highly functional, digital technology solutions. With an uncompromising dedication to becoming a leader in digital electronics, we create products with a high level of practicality and excellence. For more information on GGMM, please visit http://www.ggmm.com.