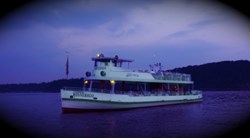 Walking into a nearly pitch-black canyon at night takes guts.
Wisconsin Dells, WI (PRWEB) September 12, 2013
A new fall chill in the air will usher in one of Wisconsin Dells favorite ghoulish adventures on the Wisconsin River. Dells Boat Tours' popular haunted Ghost Boat tour embarks September 20 and runs Friday and Saturday nights through October. The after-dark voyage takes passengers on an excursion upriver to the eerie Witches Gulch, hailed as one of the most haunted spots in the Dells and a fitting stop for a Halloween season scare.
"Visitors will be able to get their creep on again this fall as the Ghost Boat meanders upriver to the famed Witches Gulch, fraught with legends and tales from the dark side of the Dells," said Amanda McGowan, assistant manager of Dells Boat Tours.
When darkness falls, the Ghost Boat leaves the safe harbor behind for an ominous 1½-hour adventure into the heart of the Dells. Special effects and the mere nature of the river at night combine to form the perfect setting on the murky water. The dark, rushing waters are an eerie reminder of the deadly history of this once treacherous waterway. Many rivermen were swept away as they tried to navigate their rafts of lumber through the swift current.
Imaginations will run wild with tales of spirits and ghouls that may be hiding out in shadowy glens along the way. The crisp fall air and spooky tales set the stage for a chilling adventure when the tour docks at its final destination, Witches Gulch – a place where lore says witches dwell and your imagination can get the best of you. Passengers who dare will disembark and sneak along the narrow boardwalk as it winds deep into the night.
"Walking into a nearly pitch-black canyon at night takes guts," said McGowan. "Witches Gulch provides the perfect backdrop to ramp up the fright factor for passengers; it's off the charts."
Ghost Boat adventures will be offered at 8:15 p.m. on the following dates: September 20, 21, 27, 28, and on October 4. Two excursions per night, one at 6:15 p.m. and another at 8:15 p.m., will embark on October 5, 11, 12, 18, 19, 25 and 26. Additional boats may be added if demand is high. Call Dells Boats Tours at (608) 254-8555 for more information on tour availability. Reservations are highly recommended, however, walk-ups are also accommodated if seats are available.
All Ghost Boat adventures embark from the Dells Boat Tours' main landing dock, located at 11 Broadway in downtown Wisconsin Dells. Ghost Boat tickets are $22 per person, tax included. The excursion is not recommended for children ages 10 and younger or those faint of heart. Discretion is left to parents and guardians for older children. For more information, including a map of ticket and dock locations, please visit the Dells Boat Tours Ghost Boat web site or call (608) 254-8555.