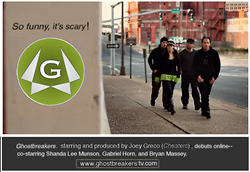 Story Editor Tom Huckabee says, "It's Ghost Hunters meets Mel Brooks, in the style of Reno 911."
Fort Worth, Texas (PRWEB) October 20, 2014
Just in time for Halloween, New Palace Films, Malchus Media and Joey Greco announce the release of the first season of Ghostbreakers, a faux reality series spoofing paranormal investigation, on demand in the U.S.A via Ghostbreakerstv.com for downloading and streaming.
The first eighteen 22-minute episodes of Ghostbreakers (shot on location in Shreveport, Louisiana) star Greco, who rocketed to international acclaim as the hardboiled host of Cheaters, the long-running reality megahit. Greco departed the show in 2012 to pursue his dual passions: comedy and metaphysical phenomena, resulting in the first ever ghost-hunting parody program.
Answering calls from desperate individuals in conflict with supernatural forces, The Ghostbreakers' overconfident commander, played by Greco, leads his team of bold but hapless spook-chasers—including a lovelorn gadget master (Gabriel Horn), a prima donna clairvoyant (Shanda Lee Munson), and a fainthearted muscle man (Bryan Massey)--face-first into the dangerous fray of the unknown. Attempting to placate, evict or exterminate mischievous spirits, they generally end up causing more harm than good for their often-dissatisfied clients. Failure is always an option for this dysfunctional crew of bickering nitwits.
Greco says, "Having spent considerable time as a reality show host, it was refreshing to work on a project that made light of the genre. For parody to work, you need an over saturated format like paranormal investigation. Its tricks and clichés are familiar to everyone and therefore ripe for comedic deconstruction."
This tour de-farce was created, written, and directed by Gabriel Horn and Benjamin Wilbanks, executive produced by Jennifer Floyd and Hank Cohen, and represented for international sales by Chris Philip of Sierra-Engine Television.
"We are thrilled to offer the show ourselves domestically for instant access and binge viewing," says Gabriel Horn. Benjamin Wilbanks says, "Ghostbreakers was financed and produced completely independently. It's the exact show we wanted to make. It follows that we self-distribute, delivering our spooks directly to the people."
"Ghostbreakers, substantially more than a parody, comprehends that horror and humor are two sides of the same coin. The chills are achieved honestly, without resort to shock value, and the humor merges slapstick and smart wordplay in a manner of classic Vaudeville. Production values have an every-dollar-on-screen quality. On Jerry Moriarty's scale of the Three Degrees of Humor ("hume," "humor," and "humest"), this one touches all the bases. Recommended without reservation ." Michael H. Price (Forgotten Horrors)
For instant access to Ghostbreakers season one go to: http://www.ghostbreakerstv.com
Visit IMDb for full cast and crew information.
Media Contact:
Tom Huckabee
817-688-9852
producers(at)ghostbreakerstv(dot)com