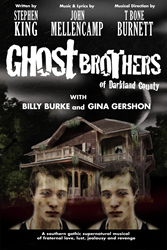 Durham, NC (PRWEB) October 01, 2014
The full cast for the southern gothic, supernatural musical Ghost Brothers of Darkland County was announced today with actor/writer/producer Billy Burke (The Twilight Saga) and actress/writer/singer Gina Gershon (Killer Joe, House of Versace, Boeing, Boeing) playing the lead roles of Joe McCandless and Monique McCandless respectively. Touring across North America this Fall, Ghost Brothers of Darkland County was written by best-selling author Stephen King, with music by Rock and Roll Hall of Famer John Mellencamp, and musical direction by Grammy Award-winning T Bone Burnett. The tour's only stop south of Washington, DC will be at DPAC, Durham Performing Arts Center, in Durham, NC on Friday, November 14, 2014.
Ghost Brothers of Darkland County is a collaboration 16 years in the making, and blend of unique musical and staging styles. Throughout the production, the eerie blues 'n' roots music reveals the inner workings of the characters as opposed to just propelling the play's narrative, with only a few songs directly advancing the plot. The haunting tale of fraternal love, lust, jealousy and revenge, begins with Joe McCandless reflecting on a past tragedy involving his two older brothers battling over a girl which ended in the unfortunate deaths of all three. Now with Joe as an adult and two boys of his own, he's watching an all too familiar scenario play out before his eyes. With his sons at each other's throats, Joe's story will either save or destroy the McCandless family.
For ticketing information:

Online at DPACnc.com
DPAC Ticket Center: 919.680.2787, 123 Vivian Street, Durham, NC
Ticketmaster.com / Ticketmaster Charge by phone at 800.745.3000
GHOST BROTHERS OF DARKLAND COUNTY CAST
CAST
Joe McCandless Billy Burke
Monique McCandless Gina Gershon
The Shape Jake La Botz
Zydeco Cowboy Jesse Lenant
Drake McCandless Joe Tippett
Frank McCandless Lucas Kavner
Anna Wicklow Kylie Brown
Dan Coker Eric Moore
Andy McCandless Travis Smith
Jack McCandless Peter Albrink
Jenna Farrell Kate Ferber
Young Joe Zac Ballard
Featured Background Vocalist Carlene Carter
Newt Hoggenbeck / Ensemble Joe Jung
Ensemble Gwen Hughes
Ensemble Rob Lawhon
BAND
Music Supervision & Arrangements,
Band Leader, Guitarist Andy York
Percussion Dane Clark
Keyboards & Harmonica Troye Kinnett
Upright Bass Jon E. Gee
NORTH AMERICAN TOUR DATES
Nov 8 Orono, ME Collins Center For The Arts
Nov 9 Orono, ME Collins Center For The Arts
Nov 11 Toronto, ON Massey Hall
Nov 13 Philadelphia, PA Merriam Theatre
Nov 14 Durham, NC Durham Performing Arts Center
Nov 15 Washington, DC Warner Theatre
Nov 16 Baltimore, MD The Modell Performing Arts Center at the LYRIC
Nov 18 Red Bank, NJ Count Basie Theatre
Nov 20 Portland, ME Merrill Auditorium
Nov 21 Boston, MA Emerson Colonial Theatre
Nov 22 Providence, RI The VETS
Nov 24 New York, NY Beacon Theatre
Nov 26 Detroit, MI Fisher Theatre
Nov 28 Chicago, IL Broadway in Chicago's Oriental Theatre
Nov 29 St. Louis, MO Peabody Opera House
Dec 1 Denver, CO Temple Hoyne Buell Theatre
Dec 3 Phoenix, AZ Orpheum Theatre
Dec 4 Los Angeles, CA Saban Theatre
Dec 5 San Francisco, CA SHN Curran Theatre
Dec 6 San Francisco, CA SHN Curran Theatre
Press Contact:
Kristen Foster
PMK*BNC
Kristen.Foster(at)pmkbnc(dot)com
310-854-4742
####
ABOUT DPAC:
Since its opening in 2008, DPAC, Durham Performing Arts Center, has become the center for live entertainment in the Triangle. Recognized for its contemporary design, DPAC features 2,700 seats, intimate sightlines and state-of-the art sound and video. Listed four times in the top 10 in Pollstar magazine's annual worldwide theater attendance rankings, DPAC is currently the #4 ranked theater in the U.S.
What is up next at DPAC? The Best of Jethro Tull performed by Ian Anderson (October 4), Cameron Mackintosh's Spectacular New Production of Andrew Lloyd Webber's The Phantom of the Opera (October 8-19), and Singing Sensation Susan Boyle on Her First American Tour (October 29).
For more information please go to http://www.DPACnc.com.