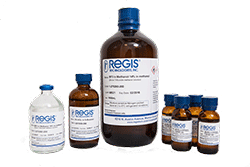 Chemical handlers, especially when working with hazardous materials, need to be able to quickly identify the best way to approach a product.
Morton Grove, IL (PRWEB) April 29, 2015
To comply with changing OSHA requirements, Regis Technologies will update packaging and safety information for its consumable line of chromatography products and specialty chemicals.
Starting June 1, 2015, the Occupational Safety and Health Administration (OSHA) will put in effect a new Globally Harmonized System of Classification and Labeling of Chemicals (GHS) standard. The new standard will improve communication of safety concerns and handling instructions.
OSHA's website tags the standard as "The standard that gave workers the right to know, now gives them the right to understand."
Chemical handlers, especially when working with hazardous materials, need to be able to quickly identify the best way to approach a product. Therefore, the United States Department of Labor and the United Nations are implementing a uniform format for labels and safety information documents.
For companies like Regis Technologies that work with customers worldwide, it is a priority that safety communication be clear regardless of language barriers. The universal language of pictograms depicting hazard types and levels is one key for quick understanding. More importantly, a globally agreed upon grading system will inform hazard levels accurately to any user.
It is important to note that Regis and OSHA have been using the Department of Labor's Hazard Communication Standard (HCS) for years. However, the new GHS standard aligns one format for global conformity. As of June 1, packaging and Safety Data Sheets (SDSs), formerly Material Safety Data Sheets (MSDSs), will present hazard information uniformly from and for anyone in contact with a hazardous chemical worldwide.
Regis' Director of Chromatography and Separations, Jelena Kocergin, states, "Regis fully supports OSHA initiatives and improved safety for chromatography scientist who are using our products."
Regis Technologies is currently implementing changes to its labels to meet GHS requirements. Regis will unveil new packaging throughout April and May and complete this conversion to the GHS standard by the required June 2015 deadline. For complete details on its changing consumable packaging, read this letter from the director.
New Safety Data Sheets for hazardous materials are now available to download on Regis's website.
These changes serve to continue to support its successful chromatography consumables and uphold Regis's 59 year old commitment to quality. Founded in 1956, Regis is a leader in chiral separations, chromatography consumable products including Gas Chromatography Derivatization reagents, Ion Pairing Reagents and specialty HPLC columns and the production of small molecule APIs.
Contact Regis technical team today for more information.