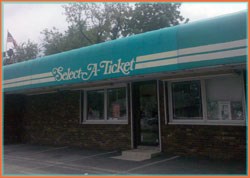 There is no shortage of Giants fans in this area so there is always a high demand for Giants tickets
Riverdale, New Jersey (PRWEB) August 22, 2013
New Jersey ticket broker SelectATicket.com is proud to announce the availability of New York Giants home game tickets this year. A well-respected secondary ticket market website, SelectATicket.com strives to always have tickets available for Giants home games. Even when competitors are sold out, Select-A-Ticket likely has NY Giants tickets for sale.
The regular season of the National Football League is almost upon us. The New York Football Giants are once again readying themselves to compete for a playoff spot in the challenging NFC East Division. Year after year New York Giants tickets are among the toughest tickets to find and this year is proving no different. Already sold out for the season, tickets are quickly disappearing on the secondary market as well as loyal fans prepare to visit MetLife Stadium en masse to watch their Giants compete.
The New York Giants, who narrowly missed the playoffs last year after a 9-7 season, are looking to take control of the NFC East once again. With newly signed defensive tackles Cullen Jenkins and Mike Patterson, the Giants look to bolster the heart of their defensive line and wreak havoc on opposing teams' rushing numbers. Eli Manning returns hungrier than ever for a third Super Bowl, as the Giants look to be the early favorites for a playoff spot in the NFC East.
Another new face on Giants defensive line is rookie defensive end Damontre Moore. The Texas A&M product was a fearless tackler and passrusher, totaling 12.5 sacks and 86 tackles for the Aggies. The team hopes he steps in to make up for the loss of Osi Umenyiori to free agency this offseason.
The Giants are also planning ahead for the future on offense, as they have selected quarterback Ryan Nassib from Syracuse in this year's draft. Nassib was a three year starter for the Orangemen, with a completion percentage of over sixty percent and sixty-seven touchdowns to just twenty-six interceptions. Giving Nassib the opportunity to shadow Eli Manning as he enters the later years of his star-studded career with give Nassib all the experience he needs to eventually take the helm and lead the Giants to future playoff appearances.
"There is no shortage of Giants fans so there is always a high demand for Giants tickets. With home games against divisional foes Dallas, Washington and Philadelphia plus rare visits by the Broncos, Seahawks and Raiders, this season will be no different," says Mark Gibbons, who heads up E-Commerce at Select-A-Ticket.
About SelectATicket.com
SelectATicket.com is an industry leader in providing quality seating for all types of events at competitive prices. From Disney on Ice to the Super Bowl, SelectATicket.com has the right tickets for the right venues at great pricepoints.
Visit SelectATicket.com today and get your seats for any upcoming New York Giants home game.