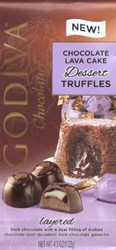 Simply Delicious Gift Baskets
(PRWEB) October 04, 2013
Last year, Glitter Gift Baskets introduced the Godiva Chocolatier Product line and it was a great success. The product flew off the shelves as soon as it came in. Due to that overwhelming success, Glitter decided to introduce a broader array of Godiva chocolates in their gift baskets.
Two Tantalizing New Flavors
Godiva Chocolatier Dark Chocolate Lava Cake Dessert Truffles (Dark chocolate with a dual filling of molten chocolate over decadent chocolate ganache)
Godiva Chocolatier Creme Brule Dessert Truffles (Milk Chocolate with a dual filling of caramel and creamy white chocolate ganache with crunchy toffee crumbles)
It is advised that Holiday Orders be submitted early to guarantee availability. The Order now and Ship later Service is a great tool for Holiday Corporate Orders.