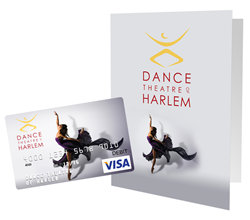 The stunning imagery provided by Dance Theatre of Harlem is unlike your typical gift card design.
Pittsburgh, PA (PRWEB) February 25, 2014
GiftCards.com™, the highest-ranking and most-trafficked gift card website, today announces gift card designs that feature images from the Dance Theatre of Harlem (DTH). A portion of the proceeds from the sale of these premium gift cards will be donated to the dance company, a non-profit organization.
Captivating images of performers from this world renowned troupe will be available as pre-designed prepaid debit cards that can be embossed with a personal message, purchased in any amount between 20 and 500 dollars, and delivered in a matching greeting card. Since all orders are processed via the company's in-house print-on-demand facility, pre-designed gift cards are typically shipped within 24 hours of payment verification.
"One of the keys to our success is our ability to create unique gift cards that you can't find anywhere else. The stunning imagery provided by DTH is unlike your typical gift card design. And while the dance designs will appeal to almost anyone with an artistic orientation, we expect fans of the ballet as well as those with an affinity for this world famous organization to be particularly impressed," says Jason Wolfe, CEO of GiftCards.com. He adds, "I am personally pleased to support an organization that provides outreach to communities and to underprivileged children."
Laveen Naidu, Executive Director of Dance Theatre of Harlem, agrees. He says, "We have a strong, loyal fan base, and this is a wonderful way to offer our fans another way to express their devotion plus provide them with another avenue to support the next generation of diverse talent."
To celebrate the partnership, GiftCards.com is featuring the DTH gift card designs on the company's homepage today. The program will also be announced at the dance company's 45th Anniversary Gala at Cipriani 42nd Street in New York City later tonight.
About GiftCards.com
Since 1999, GiftCards.com has been providing U.S. consumers with an array of gift card products including personalized gift cards, group gift cards, virtual gift cards, discount gift cards, and local gift cards redeemable at millions of establishments across the country. GiftCards.com is also a leader in gift card innovation with 40 patents filed and 7 patents issued/allowed. More information about GiftCards.com can be found on the company's media page.
About the Dance Theatre of Harlem
Founded in 1969 by Arthur Mitchell and Karel Shook, Dance Theatre of Harlem was considered "one of ballet's most exciting undertakings" (The New York Times, 1971). Shortly after the assassination of The Reverend Dr. Martin Luther King, Jr., Mitchell was inspired to start a school that would offer children—especially those in Harlem, the community in which he was born—the opportunity to learn about dance and the allied arts. Now in its fourth decade, Dance Theatre of Harlem has grown into a multi-cultural dance institution with an extraordinary legacy of providing opportunities for creative expression and artistic excellence that continues to set standards in the performing arts.