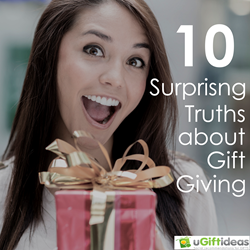 "Truth #1: Grandparents are the new holiday power spenders."
Nashua, New Hampshire (PRWEB) November 09, 2015
uGiftIdeas.com, a uniquely curated gift shopping destination with over 35 million page views per year, conducted a survey of more than 1,300 Americans with household incomes of $50,000 per year or greater to explore the nooks and crannies of gift shopping psychology. The survey revealed ten surprising truths about gift giving that will help retailers and shoppers get and give great gifts this holiday season. From a new market of big-spending holiday shoppers to the best and worst gift giving niches, this survey sheds light in new directions. Full survey data is available at no charge upon request.
The 10 Surprising Truths of Gift Giving:
1. Grandparents are the new holiday power spenders.
66.56% of grandparents spend $100 or more on gifts per grandchild.
2. Men spoil themselves more than women.
Almost 30% of men (27.87%) say that treating themselves to a little luxury makes the holiday season feel most special.
3. Gift giving isn't funny.
Only 2.01% of those surveyed describe themselves as "funny" gift givers.
4. Women break the stereotype of being frivolous gift givers.
The majority of women (36.75%) identify themselves as "practical" gift givers. Sentimental (22%) and off-beat (18.88%) came in distant second and third.
5. Daughters do it better.
Behind wives (24.5%), husbands (21.96%), and moms (13.65%), daughters are the next best gift givers. 8.05% of respondents said that their daughter gives the best gifts.
6. Brothers are the worst.
Behind wives (13.47%), dads (13.39%), husbands (12.07%) and moms (11.9%), brothers are the hardest to shop for. 5.07% of respondents said that brothers are the toughest to buy gifts for.
7. Savvy big-spender aunties are tightening their purse strings.
Once considered an untapped revenue stream for toy companies, 62.56% of aunts and uncles now spend less than $100 per niece or nephew.
8. Leave work at the office when gift shopping.
Almost no one (0.06% of respondents) wants a gift related to their work or profession.
9. It really is the thought, or your budget, that counts.
Almost a full quarter of respondents (24.39%) want you to consider your budget above all else when shopping for gifts for them. The top choices were hobbies (27.3%) and likes (26.25%).
10. Gift giving is not just a retail ploy to get people to spend more money.
58.79% of respondents said that gift giving makes their relationships more meaningful.

About uGiftIdeas.com
uGiftIdeas.com is a curated marketplace for unique and artisanal gift ideas with over 35 million page views per year and 51K Facebook fans. uGiftIdeas.com is the go-to destination for avid gift givers seeking creative ideas for their friends and family members of all ages and occasions.