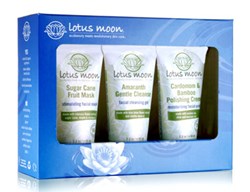 Lotus Moon Trio Gift Sets are great for all skin types, particularly for women with sensitive skin and other epidermal issues. Our products are designed to alleviate skin irritation as well as provide anti-aging benefits. - CEO Lake Louise
Alameda, CA (PRWEB) November 19, 2013
Inspired by Lotus Moon best-sellers, the leading eco-beauty skin care brand facial gift set includes Amaranth Gentle Cleanse, a gentle foaming cleanser, Cardamom and Bamboo Polishing Crème Exfoliant and Sugar Cane Fruit Mask.
Lotus Moon is also offering a luxury body care gift set, complete with spicy citrus body wash, grapefruit scented body scrub and a rich and creamy body cream. Lotus Moon Trio Gift Sets makes for impressive gift giving this season. It comes complete with a custom fitting box with window that displays the products.
"Lotus Moon's Skin Trio Gift Set is great for all skin types, particularly for women with sensitive skin and other epidermal issues," says CEO Lake Louise. "Our products are designed to alleviate skin irritation as well as provide anti-aging benefits. The Trio Gift Set would make the perfect gift for the holidays!"
Lotus Moon's holiday facial care gift set provides the natural balance to any anti-aging regimen.
Holiday shoppers can purchase the new Lotus Moon gift box sets at http://www.smbessentials.com
About Lotus Moon:
A brand of SMB Essentials, Lotus Moon is an affordable eco-friendly skin care line for all skin types that uses natural and organic ingredients for balanced and radiant looking skin. Created by Lake Louise in 2002, Louise combines her passion for the environment and love for skincare in creating a wide range of products that include anti-aging serums, moisturizers, peels, exfoliates, and more for the eco-conscious woman. To see what Lotus Moon can do for your skin, visit http://www.smbessentials.com.
About Skin, Mind, Body Essentials (SMB Essentials)
Skin, Mind, Body Essentials develops natural and organic beauty and wellness products for brands: Lotus Moon®, DetoxRx®, Plain Jane Beauty® and SON®.