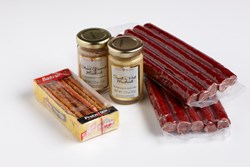 This unique gift box is the perfect gift for the hard to buy for man on your holiday gift list.
New York, NY (PRWEB) October 15, 2013
Advanta Supplements is pleased to announce the re-release of their popular holiday gift basket just in time for the holiday season. This is the 3rd year in a row that Advanta Supplements has produced their special gift basket.
This unique holiday gift basket is made from the finest ingredients from the Midwest. It includes locally produced:

One package of summer beef sticks
One package of smokey beef sticks
One box of Bachman Pretzels
One jar of spicy mustard
One jar of sweet and hot mustard
The spokesperson for Advanta Supplements stated, "We know this is a very strange thing for a health and supplement company to product but 3 years ago we were approached by a local meat locker who produced this amazing summer sausage and needed help introducing them nationally. We ended up combining the beef sticks with mustard and pretzels to create the ultimate Gourmet Gift Basket."
This unique gift box is only available via Amazon and supplies are extremely limited. Each year the entire production has sold out before the end of December.
To learn more about this unique gift idea for men, go to http://www.amazon.com/GourmetGiftBaskets-com-Gourmet-Gift-Baskets-Basket/dp/B0068RFY4Q.
About Advanta Supplements
Located in the heart of Iowa, Advanta Supplements partners with FDA-approved labs to develop, test, and manufacture a line of quality vitamins, weight loss and nutritional supplements. All Advanta products are made in the U.S. and backed by a complete customer satisfaction guarantee.