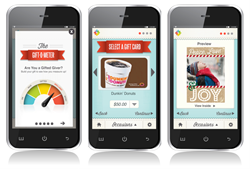 We strive to create products that offer new and creative solutions to make gift cards more giftable.
Kansas City, Missouri (PRWEB) July 16, 2013
Gift Card Impressions, the leading provider of personalized solutions within the $100 billion gift card industry, was recently awarded a prestigious Hawk Award for Most Innovative Prepaid Product at Blackhawk Network's annual Hawk Awards Gala. Blackhawk is a leading prepaid payment network utilizing proprietary technology to offer a broad range of gift cards, other prepaid products and payment services in the United States and 18 other countries. Its Hawk Awards honor innovation and achievement among leaders in the prepaid card industry.
This marks the second year Gift Card Impressions has been awarded Blackhawk's Most Innovative Prepaid Product Award, as well as the first year an entrant has won the Award for two consecutive years.
"We strive to create products that offer new and creative solutions to make gift cards more giftable," said Brett Glass, President and CEO of Gift Card Impressions. "It's an honor to receive this award for the second year in a row, along with the recognition of leaders in the gift card industry."
Gift Card Impressions also recently won three Graphic Design USA Awards. The company was awarded two American Inhouse Design Awards for new packaging formats, in a program where less than one in five entries were declared winners. Gift Card Impressions was also awarded an American Web Design Award for mobile application design, being honored out of 1,200 entries. The Gift Card Impressions mobile app allows users to easily send gift cards and customize them with state-of-the-art technology, using photos, voice, sound and video for a truly unique gift giving experience. It is now available for download on iTunes and Google Play. Graphic Design USA was founded in 1963 and serves as the leading news source for the graphic design and creative industry.
About Gift Card Impressions
Gift Card Impressions is a Kansas City based company focused on delivering strategic development, agency creative and packaging solutions to the gift card industry. Clients of Gift Card Impressions include most major retailers and most major gift card brands. The company provides leading product solutions for both physical and digital gift card delivery, and its solutions make the gift-giving occasion more memorable and personalized by using the latest technologies. The company has more than 69 patents pending or issued, and 56 trademarks issued or applied for. Gift Card Impressions is Bringing the "Gift" Back to Gift Cards™. For more information, please visit http://www.giftcardimpressions.com.