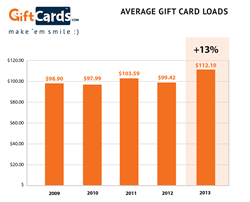 This double-digit jump represents a significant change in consumer sentiment.
Pittsburgh, PA (PRWEB) December 19, 2013
GiftCards.com™, the leading online gift card site, today announced record-breaking sales for the month of December with a 13 percent increase in dollar value loaded per card, indicating consumers have more to spend this holiday season.
"This is our best gift card season yet and a new record for sales on the last pay day before Christmas," said Jason Wolfe, CEO of GiftCards.com. "The traffic increase is partly due to the migration of consumers buying gift cards online versus in stores, but the encouraging news for the economy is that the amount of money loaded per card went up 13 percent—from $98.66 in 2012, to $111.40 in 2013."
Shelley Hunter, "Gift Card Girlfriend" and brand spokesperson for GiftCards.com, says the uptick is significant because gift card dollar amounts are set by consumers rather than retailers. She explains, "With gift cards, you decide how much money to spend—how much money your budget can afford—versus having to pay fixed, retailer-determined prices. So spending more per gift card means consumers are choosing to do so. This double-digit jump represents a significant change in consumer sentiment."
Additional gift card insights can be found on the GiftCards.com media page.
About GiftCards.com
Since 1999, GiftCards.com has been providing U.S. consumers with an array of gift card products including personalized gift cards, group gift cards, virtual gift cards, discount gift cards, and local gift cards, redeemable at millions of establishments across the country. In 2012, the company delivered over one million gift cards to American homes from Boston to the Bay Area. GiftCards.com is also a leader in gift card innovation with over 38 patents filed and 4 patents issued.
About Gift Card Girlfriend
Shelley Hunter, a.k.a. Gift Card Girlfriend, is the founder of GiftCardGirlfriend.com and spokesperson for GiftCards.com. As a consumer guide to gift cards, she is the authoritative source of information for consumers and the media on all things gift cards.