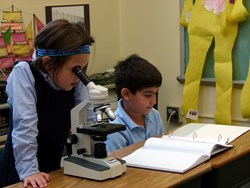 SBI is a laboratory-based class which provides the students the opportunity to explore a specific area of science in great detail.
Westwood, NJ (PRWEB) October 01, 2013
Primoris Academy, a school exclusively for gifted children ages 5 through 12 located in Westwood, New Jersey, is pleased to announce the availability of a unique science after-school program. As of September 26th, 2013, an after-school program called the "Scientific Bureau of Investigation" (SBI), previously available only to students enrolled at Primoris Academy, is now available to any student who meets the school admission requirements.
The SBI program differs from ordinary weekend enrichment programs in that it establishes a platform for students to discover and learn advanced aspects of science. The students are called "Scientific Agents" in Training, are assigned a badge and learn the rules of the laboratory by knowing the SBI Pledge.
The program was developed by Rebecca Connolly, a science teacher at Primoris. In her words, "SBI is a laboratory-based class which provides the students the opportunity to explore a specific area of science in great detail. We are creating a dimension for the students to enter so they feel connected to the subject. They believe they are scientists in training and this approach allows us to cover advanced, in-depth subject material without losing their interest."
The lessons run as annual units and this year's unit is Microbiology. Topics to be covered include microscopy, understanding fermentation and investigate bacteria, yeasts and molds. The class has been adapted to avoid live pathogens by using commercially available slides, allowing students the opportunity to safely view them under the microscope. For the students, viewing any bacteria using a microscope is magic.
Laboratory-based classes are expensive. Primoris Academy is fortunate school director Katie Kim understands the value and advantage this class offers students and is willing to make the necessary investment. For example, each student has their own microscope to use for the duration of the class. Additionally, Primoris Academy has received a donation of an incubator from VWR International, LLC. The additional support from companies like VWR International allows Primoris Academy to offer a level of excellence in science education.
At Primoris, student conversations at lunch involve Streptococcus pyogenes and Staphylococcus aureus; that's how we know science is exciting.
For more information about this after-school program or other information about this unique school for gifted and talented children, please call (201) 722-1000.