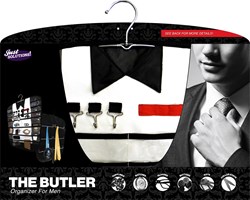 Hanging accessory organizers for women have been a longstanding bestseller… but The Butler is the first for men.
New York, NY (PRWEB) November 27, 2013
Men's accessories is a messy business, but there is finally a solution just in time for the holidays. The one-of-a-kind Butler - Organizer for Men is the unique answer to the growing list of extras that are constantly crowding shelves, disappearing in drawers or just plain lost.
The Butler solves the problem of guys trying to keep track of their accessories: gadgets, keys, cufflinks, collar stays, rings, ties, belts, sewing kits, passports, and much more are all stored on a neat hanging organizer. Instead of items getting lost in a junk drawer somewhere, all a man's fashion details and doodads are hung in the closet right beside his suits, easily visible and quickly accessible— most importantly, it's all organized with a variety of pockets and hooks for everything he needs in one convenient location.
Guys no longer need to search through drawers or pants pockets when they're already late for work, the Butler is changing men's accessories for good. In addition, the Butler fits comfortably in a garment bag and folds efficiently into a suitcase - making it the perfect travel companion.
"Hanging accessory organizers for women have been a longstanding bestseller… but the Butler is the first for men," said David Klar, the CEO of Just Solutions! "This product is considered a must-have life hack, and even women are buying The Butler for the messy men in their lives as a unique Holiday gift that can keep their men organized and relationships uncluttered."
Another one of the company's most recent product launches is the Stick It - Magnetic Accessory Gallery, a line of magnetic decorative frames which holds magnet-friendly accessories such as clips, necklaces, bracelets and other knick-knacks. The Stick It allows women to decorate their space with their own personal style and has also been featured in numerous publications.
Though the Butler is available for only $29.99 and the Stick It is on sale for $19.99 – and both include free shipping, Just Solutions! is now offering even greater savings. In an exclusive offering, free shipping is now available on all of their products on JustSolutionsProducts.com with any purchase over $25.
"We want to offer our customers the best new solutions at great value, and make sure they have a happy Holiday," said Klar.
Just Solutions! which was founded in 2012, concentrates on bringing never-before-seen 'solution' products to the market. Their products are unique, new, fun, fashionable, useful, affordable – and offer SOLUTIONS to common everyday issues. The fast-growing company has been covered by CBS News NY, Real Simple, Good Housekeeping and Crains magazines. Their products can also be found at major retailers including Bed Bath & Beyond, Amazon and The Container Store.