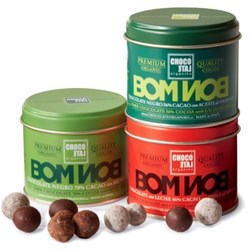 La Tienda - The Best of Spain
Williamsburg, VA (PRWEB) October 16, 2013
Bacon and chocolate: irresistible gifts for the 2013 season. La Tienda introduces an array of new delights including Ibérico de Bellota Bacon and newly discovered organic chocolate bonbons from Madrid.
For more than seventeen years, LaTienda.com has been the top source for artisanal foods from Spain, and today announces the top seven new gift ideas for 2013. Throughout the year, members of the La Tienda team attend trade shows and travel to Spain seeking the very best gourmet items to introduce to the American market.
"We find that our customers are fanatical about Ibérico meats and traditional Spanish foods," says President Jonathan Harris. "We work with small artisanal producers based in Spain to bring these favorites to the U.S." From the Ibérico de Bellota Pancetta Thick Cut Smoked Bacon to the Orgániko Chocolate Bonbon Sampler, La Tienda brings the spirit and flavor of Spain to every home.
This year's best finds include:
1. Ibérico de Bellota Pancetta - Thick Cut Smoked Bacon
Rich, smoky, 100% Ibérico pancetta-style bacon by Fermín, this pork from Spain takes bacon to an entirely new level. These strips of decadent deliciousness have been slow smoked to create some of the finest bacon in the world. They add melt-in-your-mouth flavor to your favorite recipes and are excellent sprinkled on salads and baked potatoes. The perfect gift for the bacon lover!
2. Orgániko Chocolate Bonbon Sampler
A decadent finale to a special meal or just the right nibble for a quick chocolate fix, these premium, organic bonbons are nestled in elegant tins — perfect for gifting to the chocolate lover in your life, or better yet, keeping for yourself! Taste three captivating combinations in the Orgániko Bonbon Sampler: dark chocolate with olive oil, dark chocolate with natural mint, and milk chocolate with cinnamon, chili and vanilla. These award-winning bonbons are created by some of the most talented artisans in Spain.
3. Peregrino Traditional Paella Kit in Gift Box
No need to gift wrap this beautiful box! Paella is the famous rice dish that has been at the center of celebrations in Spain for centuries, prepared by farmers in the field and famous chefs alike. A fun, easy and delicious way to share the flavors of Spain with friends and family. Two classic recipes are included. La Tienda's Traditional Paella Kit includes: Calasparra Rice (2.2 lbs.) - the venerable strain grown in the mountains of Murcia; hand picked La Mancha Saffron (0.035 oz); the celebrated pimenton de La Vera smoked paprika (2.47 oz) which adds depth to your broth; all-natural fire roasted Piquillo peppers (7 oz) from Lodosa - scarce as they are flavorful; a 500ml bottle of Senorio de Vizcantar Special Selection extra virgin olive oil; and a 15-inch traditional steel paella pan.
4. Sausages of Spain Gift Basket
Give the traditional sausages of Spain with this hand picked assortment. This Sausages of Spain Basket includes dry-cured sausages sure to please every palate's pleasure — from spicy and salty to mild and meaty. Take a mouthwatering voyage from the mountains of La Rioja through the semi-tropical islands of Majorca and Menorca with stops along the way in historic Old Castile and the valleys of Western Spain. Tucked in a beautiful basket handwoven in Spain, this is the ideal gift for meat-loving friends, family and colleagues!
5. Peregrino Spanish Cheese Tasting Sampler
Take a flavorful tour of Spain with this assortment of quintessential Spanish cheeses. This grouping of four of Spain's finest and most flavorful cheeses arrives atop a black sampler board with tasting notes, making a beautiful hostess gift or a ready-to-serve party appetizer. Sip your favorite Spanish wine and indulge in a tasting flight that guides you through various regions of Spain including buttery Mahón, smoky Idiazábal, zingy Manchego and rich Ibérico.
Founded in 1996 by the Harris family, La Tienda is the leading online retailer of Spanish gourmet food, offering over 900 authentic products. Family-owned and managed, the business is dedicated to working with artisan and small family businesses in Spain.
La Tienda is headquartered in Williamsburg, Virginia, with its Spanish operation based outside of San Sebastian, Spain. Warehouses in Virginia and Alicante, Spain, ship throughout the United States, Puerto Rico, and Canada. La Tienda shipped to over 100,000 customers in 2012, including restaurants and renowned chefs. Its first retail store opened in Williamsburg, VA in November of 2009.
In 2011, La Tienda received the Outstanding Workplace Education Partnership Award from the Virginia Association for Adult and Continuing Education (VAACE). In spring of 2012, La Tienda was honored with the national award for Outstanding Workplace of the Year from the Commission on Adult Basic Education (COABE).
In October of 2012, La Tienda co-founder Don Harris was awarded Spain's Official Cross of the Order of Civil Merit by Ramón Gil-Casares, Ambassador of Spain to the United States, in recognition of Harris' extraordinary services promoting the people, culture and foods of Spain in the United States.