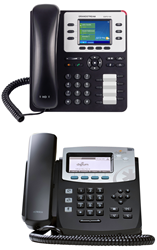 Buffalo, NY (PRWEB) March 18, 2014
VoIP Supply, North America's leading provider of VoIP solutions, is announcing today that new Gigabit speed VoIP phones are now available from leading IP device manufacturers Grandstream and Digium.
The new Grandstream GXP2130 is part of Grandstream's color screen Gigabit phone series.
The GXP2130 is a 3-line enterprise grade VoIP phone that offers users an enhanced experience for under $100 with powerful features such as:

Color Screen: A 2.8" color LCD screen.
Apps: Pre-loaded with weather and currency exchange apps.
HD Audio: High quality audio from the speaker and handset.
Speed: Dual Gigabit network ports.
Flexibility: Supports Electronic Hook Switch (EHS) with Plantronics headsets and conference calls with up to four parties.
Easy to Use: Automated provisioning, PoE, programmable keys.
The new Digium D45 is a value priced 2-line Gigabit VoIP phone designed specifically to unlock the full power of Asterisk® and Switchvox® phone systems while offering features such as:
Large Screen: A 3.5" grayscale LCD screen.
Apps: Standard integrated apps including visual voicemail, call logs, metrics, and more.
HD Audio: HD speaker and handset with echo cancellation and background noise suppression.
Speed: Dual 10/100/1000 Gigabit PoE Ethernet.
Flexibility: Includes RJ9 headset port and multiple line keys, feature keys, and context sensitive soft keys.
Easy to Use: Supports plug-and-play provisioning and will automatically discover the users Asterisk® or Switchvox® server. D45 phones can also be easily linked to a Switchvox® user by scanning a barcode.
The new Grandstream GXP2130 and Digium D45 are simple to use and install and offer users advanced features and flexibility at affordable prices.
VoIP Supply has a large selection of Gigabit VoIP phones for home offices, small and medium sized business, and large scale enterprise applications.
For more information about VoIP phones available at VoIP Supply, talk to a friendly VoIP Engineer today by calling 800-398-8647.
About VoIP Supply
We are a place of uncovering, cultivating and developing leaders. A world class place to work with big goals, a clear vision, defined purpose and a dedicated team of passionate business professionals. We love what we do and do it better than any of our competition.
Since 2002, VoIP Supply has been the leading supplier of VoIP equipment and complete VoIP solutions in North America. We are known in the industry as responsive and knowledgeable VoIP product experts.
With everything you need for VoIP, VoIP Supply has grown rapidly throughout the years. VoIP Supply is a three-time Inc. 500/5000 honoree, listed by Business First as one of WNY's Most Admired Companies, as well as one of Western New York's Best Places to Work for many consecutive years, including 2012. VoIP Supply is also the first Certified B Corporation in Western New York.